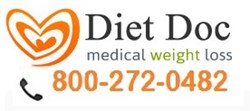 Diet Doc has helped thousands lose weight permanently, becoming the most trusted name in prescription diet plans.
Oklahoma City, OK (PRWEB) September 16, 2013
Many ask the question: does being overweight mean being obese? The answer is no. Obesity means having too much body fat while being overweight simply means weighing too much. Extra weight can come from extra muscle, bone or water, as well as too much fat. Both terms, however, mean that one's weight is higher than it should be for body frame and height. There are a number of factors that lead to being overweight or obese. Typically, those that take in more calories than they burn will experience weight gain. As the body ages, the metabolism slows and this extra weight is more difficult to lose. This can lead to obesity.
Science has revealed that when the metabolism is functioning properly, hormones work in sync assuring that the body is producing enough energy to function normally. Unfortunately, most people do not consume enough nutrient rich foods to keep the body operating at maximum capacity. Diet Doc's medically guided prescription diet plans help to balance essential hormones by helping patients follow a healthy diet and consume proper foods for perfect weight maintenance. This new approach to fast results has resulted in thousands of dieters, who have been unsuccessful in losing weight in the past, losing excess weight naturally, safely and rapidly while looking and feeling better than ever before on the Diet Doc diet plan.
Diet Doc's medical weight loss plan is a proven safe, effective and affordable method of rapidly losing unwanted and unhealthy fat. More effective than weight loss surgery, which can carry a price tag of up to $30,000, Diet Doc utilizes decades of scientific research, combining prescription medication with patient specific diet plans to trigger fast weight loss. Because age, gender, medical history, metabolism, lifestyle and activity level differ in each patient and play key roles in the body's ability to lose weight, each of these factors is considered when designing diet plans.
Potential patients personally consult with a Diet Doc physician and team of weight loss coaches to design a meal plan specifically around individual food preferences, health history, age and lifestyle, among other important factors. Because the company's natural diet plans are created around each patient's individual needs, they are extremely effective and allow patients to see fast results that motivate even further weight loss. The professionals at Diet Doc are passionate about helping people reduce their weight to avoid certain diseases and health conditions associated with being overweight or obese and want to keep their comprehensive, medically, supervised weight loss program affordable to many people, not just a select few. Diet plans are available to fit comfortably into almost any budget, making weight loss attainable to almost everyone.
Diet Doc offers incomparable services to dieters across the country, delivering a consistent effective diet plan directly to patients' doors. The company's medical weight loss experts guide every patient through their personal health journey by altering diet plans if results begin to taper. Each patient receives a weekly checkup call to assess progress, attitude, and comfort level, among other factors. Diet Doc patients are never alone in the quest to improve health by losing weight. The team of dedicated and compassionate professionals is available 6 days per week for consultation and eager to lend unlimited support, guidance and encouragement.
By providing diet plans that are distinct to each patient's needs, prescription medication that is manufactured in the U.S. using the highest quality of standards and a level of personal service that exceeds competitors, Diet Doc has helped thousands lose weight permanently, becoming the most trusted name in prescription diet plans.
Diet Doc Contact Information:
San Diego, CA
(800) 272-0482
Weight-loss(at)Dietdoc(dot)info
http://doctorsupervisedweightloss.com/testimonials.php
Twitter: DietDoc10
Facebook: DietDocNaturalHealth