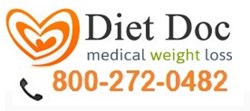 The addition of hormones, administered under strict medical supervision, kick-starts the metabolism and, when combined with the uniquely designed diet plans, promotes rapid weight loss while also naturally suppressing the appetite
Miami, FL (PRWEB) September 24, 2013
New studies reveal that patients who suffer from weight related sleep disorders, such as sleep apnea, are more apt to make poor food choice decisions, leading to increased spending on food. The study, published in the journal, Obesity, and reported on by Medical News Today reveal that sleep disorders could be making many Americans fat. Findings from the study, which involved 14 men of normal, healthy weight, all of whom were confirmed to have normal sleep-wake rhythms, revealed that the men that suffered from sleep deprivation were far more likely to make unhealthy, high calorie food choices when given $50 to make supermarket purchases. These sleep deprived men purchased 9% more calories and 18% more food compared to purchases made by the same men after a good night's sleep. Colin Chapman, first author of the study from Uppsala University in Sweden, told Medical News Today: "We hypothesized that sleep deprivation's impact on hunger and decision making would make for the perfect storm with regard to shopping and food purchasing, leaving individuals hungrier and less capable of employing self-control and higher-level decision-making processes to avoid making impulsive, calorie-driven purchases."
Sleep apnea is one of the most common weight related sleep disorders which can cause patients to stop breathing, sometimes up to 20 times per night. It is thought that the airway becomes obstructed by large tonsils, enlarged tongue and increased fat in the neck, all pressing on the airway when the throat muscles are relaxed during sleep. Not only does this weight related sleep disorder restrict patients from enjoying a restful and uninterrupted sleep, it also leads to daytime sleepiness, loss of energy, poor concentration and slow reflexes during the daytime.
Diet Doc has developed medical diet plans that promote safe and fast weight loss that focus on helping patients get their sleep back on track and begin to enjoy a more active lifestyle with increased self-confidence, feeling alert and refreshed after sleep and looking better than ever before by losing excess and dangerous weight. Diet Doc's certified nutritionists design diet plans that are based upon each patient's personal nutritional needs; diet plans that fit comfortably into any lifestyle while being compatible with almost any medical issue. Diet plans are created for those that have reached a weight loss plateau and are struggling to take off that last 10 pounds to those that must lose 100 pounds or more. Because these diet plans are tailored to meet the needs of each patient, as well as being designed to fit comfortably into almost any budget, Diet Doc makes looking forward to a better night's sleep and losing excess weight affordable for almost everyone.
The addition of hormones, administered under strict medical supervision, kick-starts the metabolism and, when combined with the uniquely designed diet plans, promotes rapid weight loss while also naturally suppressing the appetite. Because prescription hormone is enhanced with energy boosting Vitamin B12, patients are losing weight rapidly without the typical dieting energy loss or between meal hunger. Because the powerful combination of prescription hormone and the personalized diet plans target stores of old, trapped fat to be released and burned, patients are reporting very rapid and noticeable weight loss and typically from the most stubborn and difficult areas of the body, such as the belly, underarms, hips and thighs.
Diet Doc's hormone cannot be found on store shelves and is available by prescription only to qualified patients subsequent to a satisfactory medical evaluation and doctor consultation. Because the company focuses on providing only the safest and most effective weight loss products available, all prescription goods are manufactured in the United States in FDA approved pharmacies.
Diet Doc Contact Information:
San Diego, CA
(800) 272-0482
Weight-loss(at)Dietdoc(dot)info
http://doctorsupervisedweightloss.com/testimonials.php
Twitter: DietDoc10
Facebook: DietDocNaturalHealth