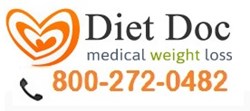 Diet Doc offers medically supervised diet plans for women that are designed to produce fast weight loss, helping women of all sizes and shapes to lose unwanted, unhealthy and embarrassing excess weight fast
San Francisco, CA (PRWEB) November 13, 2013
Countless factors can influence a woman's weight, including childbirth, hormones, age, and genetics. Aside from compromising overall physical health, obesity and being overweight can also affect a woman's sexual health and libido. A study, conducted by researchers from the University of Pennsylvania was recently reported on by Medical News Daily, and explored women's sexual functioning, sex hormone levels, body image and depressive symptoms after undergoing weight loss surgery. The study shows "that women experienced significant improvements in health-related quality of life, as well as weight-related quality of life, body image, depressive symptoms and most domains of romantic relationship satisfaction."
Although the study was focused on women who had undergone invasive weight loss surgery, any method of safely losing excess weight can produce the same positive outcome. Diet Doc's prescription hormone diet plans for women allow everyone the opportunity to improve their overall general health and boost their self-confidence and increase their libido by losing unwanted and embarrassing excess weight naturally, safely and rapidly.
Subsequent to a simple, yet comprehensive, evaluation, Diet Doc's certified nutritionists will work closely with each woman to create diet plans that are specific to their individual body size and shape, metabolism and nutritional needs, while being compatible with almost any medical condition and fitting neatly into each woman's busy lifestyle.
Unfortunately, most women do not consume enough nutrient rich foods to keep the body operating at maximum capacity. Diet Doc's tailor made prescription hormone diet plans for women are rich in essential nutrients, green leafy vegetables and lean proteins, kick starting the metabolism and helping hormones to work in sync to assure that the body has enough energy to function.
The uniquely designed diet plans, when coupled with Diet Doc's 100% prescription hormone, send a powerful message to the brain, instructing the release of old, trapped fat into the bloodstream. Because the body typically stores excess fat in the belly, underarms, hips and thighs, women are reporting the noticeable loss of pounds and inches in these areas which are typically most difficult to target, resulting in women feeling better than ever before with boosted self-confidence and increased self-esteem.
Because of the success Diet Doc has achieved by helping women quickly shed unwanted extra weight, their prescription hormone diet plans for women have become the nation's leading medically supervised weight management program. To ensure the safest and most successful weight loss experience, each woman's journey is supervised and progress is monitored with scheduled weekly communication. This level of personalized service enables the doctors to quickly identify any weight loss plateaus or barriers that may be hindering weight loss and resolve them by making medication adjustments.
Carrying extra weight can compromise, not only a woman's physical health, but mental health, self-esteem, confidence and libido, as well. Diet Doc offers medically supervised diet plans for women that are designed to produce fast weight loss, helping women of all sizes and shapes to lose unwanted, unhealthy and embarrassing excess weight fast, resulting in more satisfying intimate relationships through renewed confidence.
Diet Doc Contact Information:
San Diego, CA
(800) 272-0482
Weight-loss(at)Dietdoc(dot)info
http://www.hcgtreatments.com/
Twitter: DietDoc10
Facebook: DietDochcg