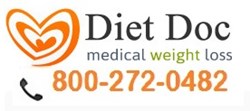 Diet Doc's diet plans are closely monitored by a team of doctors, nurses and certified nutritionists all working in collaboration to assure the safest and most successful diet journey of each patient
Houston, TX (PRWEB) August 28, 2013
Diet Doc has taken clinical weight loss a step further than the typical diet plan by incorporating a dedicated and caring support team composed of doctors, nurses, nutritionists and coaches, now offering unlimited support, guidance and encouragement for each patient, before, during and up to one year after the last pound has melted away. The staff is specially trained in the science of healthy and fast weight loss and passionate about guiding each patient safely and smoothly into a future of improved health, free from the burden of embarrassing and unhealthy excess fat. Committed to the safest and most successful diet journey of each patient, the support team is available Monday through Saturday via phone or email.
Losing excess weight can be a life changing experience and requires an intentional lifestyle change. Those who choose to rid themselves of unwanted excess fat must arm themselves with knowledge, persistence and commitment. Most fad diets simply offer diet aids, on-line support, books or meal suggestions. The experts at Diet Doc know what it takes, not just to lose the initial excess fat, but to maintain long term weight management. In addition to Diet Doc's dedicated support team, the company has developed a plan that continually evaluates and addresses the individual factors that lead to fast weight loss; factors that may be causing diminishing results or even weight loss plateaus. The company recognizes the importance of fostering feelings of well-being during its diet plans, and makes certified nutritionists and physicians available to alter or tweak the diet plan as fast weight loss changes, begins to taper off, or is not adequate for the patient's personal health goals.
By modifying and modernizing the original, outdated 1950s diet, Diet Doc has become the nation's leading and most successful prescription-only diet provider, making fast weight loss safer and more effective by allowing the patient a less restrictive daily caloric intake of up to double that of the original diet plans while also incorporating a wider range of delicious and healthy food choices to the menu.
Diet Doc's personalized diet plans are designed to be compatible with each patient's individual nutritional, medical and dietary needs. The administration of prescription, under strict medical supervision, forces trapped fat into the bloodstream. The body then burns this old, stored fat for its main source of energy. Patients who follow the Diet Doc prescription diet plans are enjoying the freedom from the burden of unwanted and unhealthy fat, losing weight rapidly and looking and feeling better than ever before.
Diet Doc's diet plans are closely monitored by a team of doctors, nurses and certified nutritionists all working in collaboration to assure the safest and most successful diet journey of each patient, as well as making aftercare consultation available to assure long term success. Each phase is accomplished from the comfort and privacy of the patient's own home. Pick up the phone and call today to schedule a free and confidential consultation and to begin the transition to a healthier, trimmer, sexier and leaner body.
Diet Doc Contact Information:
San Diego, CA
(800) 272-0482
Weight-loss(at)Dietdoc(dot)info
http://doctorsupervisedweightloss.com/
Twitter: DietDoc10
Facebook: DietDochcg