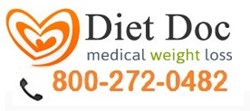 Supplementing these diet plans with Diet Doc's 100% pure prescription medication triggers the brain to target stores of old, trapped fat. This trapped fat is then released into the bloodstream to be burned as the body's primary source of energy
Atlanta, GA (PRWEB) September 10, 2013
Carrying extra pounds can make breathing difficult; especially for those who suffer from asthma. These extra pounds can also make it more difficult for patients to breathe and worsen symptoms asthma sufferers. According to the Center for Disease Control and Prevention, obesity is significantly associated with the development of asthma, worsening asthma symptoms, and poor asthma control. This leads to increased medication use and hospitalizations. It is also thought that obesity increases the risk of GERD and sleep disorders, both of which are risk factors for the development or worsening of asthma symptoms.
Because the professionals at Diet Doc are dedicated to helping all Americans enjoy a more active and rewarding qualify of life, the company has designed medically guided diet plans that promote safe, rapid and long term weight loss, with evidence now suggesting that this body transformation and the loss of excess weight is beneficial to those suffering from asthma. Benefiting from decades of scientific research and incorporating the most essential elements of the original 1950s hormone diet into these modern day diet plans, Diet Doc has helped thousands safely and successfully achieve weight loss goals while improving overall general health and helping overweight asthma sufferers an opportunity to breathe a little easier.
By combining prescription diet plans that are developed for each patient, considerate of medical, nutritional and lifestyle needs, with 100% pure prescription medication, Diet Doc extends the opportunity for everyone to lose unhealthy excess fat. Patients who follow the diet plans will not only lose unwanted pounds and inches, but a number of weight related diseases and conditions can be avoided or naturally treated, while the fast weight loss can lead to improvement of many preexisting medical conditions, including improved breathing and a reduction in asthma symptoms.
Patients who wish to be free from the burden of excess weight will complete a detailed, yet simple, medical evaluation which will be followed by a consultation with a Diet Doc in-house board certified physician. To avoid the expense and inconvenience of traveling to and from local weight loss clinics, patients can simply log onto the computer or call the company to speak with a weight loss professional. Utilizing the most current technology has enabled Diet Doc to reach those in even the most remote areas of the country, providing long term medical weight loss to everyone that wants it.
Qualified patients will work with certified nutritionists to design diet plans that work most effectively for them. These diet plans incorporate a wide range of delicious and nutritious food choices which keep the patient interested, while the rapid weight loss sustains the dieter's motivation with visual results.
Supplementing these diet plans with Diet Doc's 100% pure prescription medication triggers the brain to target stores of old, trapped fat. This trapped fat is then released into the bloodstream to be burned as the body's primary source of energy. Patients are reporting noticeable and rapid weight loss with no loss of energy and no between meal cravings. Each patient's diet journey is medically supervised and guided by a staff of professional and dedicated experts. Weekly consultations are scheduled to review progress, as well as to identify and resolve any barriers that may be hindering the loss of excess weight quickly. This level of personalized service places Diet Doc in the top ranks of medical weight loss companies in the nation, making the company the most reliable and trusted medically guided prescription diet providers in the nation.
Diet plans are designed for those of all shapes and sizes and for those that have struggled to lose 10 pounds to those that must lose 100 pounds or more. To enjoy a more active and rewarding qualify of life, to avoid countless weight related diseases and conditions, and to reduce pre-existing asthma symptoms, call the professionals at Diet Doc to schedule a free and confidential consultation today.
Diet Doc Contact Information:
San Diego, CA
(800) 272-0482
Weight-loss(at)Dietdoc(dot)info
http://doctorsupervisedweightloss.com/
Twitter: DietDoc10
Facebook: DietDocNaturalHealth