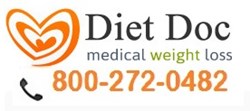 Each patient's journey to a slimmer and healthier body is supervised by Diet Doc's medical team and progress is monitored throughout with scheduled weekly communication.
New Orleans, LA (PRWEB) October 08, 2013
Every parent's dream is for their children to enjoy the healthiest, happiest and most prosperous future. The key to securing this dream is to begin now by setting good examples and guiding children toward nourishing their body with healthy food choices. A new study presented at the American Heart Association High Blood Pressure Research Scientific Sessions 2013, and reported on by Medical News Today, reveals that overweight children are more likely to suffer from high blood pressure in adulthood, compared with children of a healthy weight. The study included 1,117 healthy adolescents. Researchers analyzed the blood pressure and growth over a 27-year period from 1986. 26% of the overweight children suffered high blood pressure when reaching adulthood. This study suggests that being obese as a child could increase the person's blood pressure as an adult by four times. In addition, 70% of youths who were obese had at least one risk factor for cardiovascular disease.
Diet Doc believes that parents who intervene now by offering their children healthy, low fat, low sodium foods and snacks can have a significant impact on their children's future health. Because children model the behavior and habits of their most important role models, their parents, it is important to set good examples now. Diet Doc has developed comprehensive diet plans that, not only help patients over initial weight loss hurdles, but teach them how to maintain a long term healthy weight. By encompassing the concentrated efforts of board certified doctors, nurses and nutritionists who are educated in the science of safe and healthy weight loss, all working in collaboration to develop diet plans specific to each patient's nutritional requirements, the company has created a safe and effective means to both prevent parents form contracting dangerous weight related diseases, and also allow these parents to set positive examples for their children.
The original hormone diets consisted of patients consuming a very low caloric intake combined with the administration of low doses of prescription grade hormone. Although this combination did affect fast weight loss, the dangerously low, 500-calorie per day diet, also posed serious and significant health compromise to the patients. Decades of scientific research has enabled Diet Doc to improve the original hormone diet by offering patients over double the original daily caloric intake, as well as incorporating a wider range of healthy food choices to the menu. Prescription hormone that is manufactured in FDA approved pharmacies in the United States assures that each patient is receiving the purest and safest form.
Each patient's journey to a slimmer and healthier body is supervised by Diet Doc's medical team and progress is monitored throughout with scheduled weekly communication. This personal, hands-on approach allows the weight loss professionals to identify and resolve any weight loss plateaus or other stumbling blocks that may be hindering fast weight loss.
Subsequent to a medical evaluation and doctor consult, qualified patients will work with the company's certified nutritionists to design sensible diet plans that are compatible with each patient's personal nutritional, lifestyle and medical needs. The administration of prescription hormone is supervised by the medical team and, when coupled with the tailor made diet plans, signals the brain to target stores of fat that have trapped in the body's cells to be released into the bloodstream and burned when the body requires energy. Patients are reporting the noticeable loss of pounds and inches in areas of the body that are typically the most stubborn and difficult to lose, such as the belly, underarms, hips and thighs. The healthy and delicious diet plans maintain the patient's interest while the fast weight loss motivates the patient even further to continue to follow the diet plans.
Parents can influence their children's future health today, leading by example by losing excess weight and teaching them to make healthy food selections. Diet Doc encourages anyone who needs to lose excess weight to call today to schedule a confidential and complementary consultation.
Diet Doc Contact Information:
San Diego, CA
(800) 272-0482
Weight-loss(at)Dietdoc(dot)info
http://doctorsupervisedweightloss.com/testimonials.php
Twitter: DietDoc10
Facebook: DietDocNaturalHealth