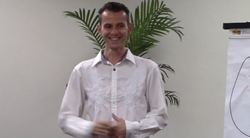 Why do men seem so different than women. Because they are. And this is how...
New York, NY (PRWEB) May 29, 2014
For thousands of years, opposite genders have been trying to understand one another. Whether it is just trying to get along or having a meaningful and understanding relationship, men and women are biologically different and therefore have trouble relating to the opposite gender. Now in a new video, lifestyle experts, Conscious Counselor, reveal the difference of masculinity and femininity.
"I'm not a woman, but I was born with more feminine energy," says Sead Pepic, speaker for Conscious Counselor.
"Twenty percent of men will have this...The same thing is for ladies. Twenty percent of ladies will have more masculine instead of their feminine. That's normal and that's okay," continues Pepic.
Pepic says that those who fall into these twenty percent categories of their gender, cannot date that gender-personality that they hold strongly to. For example, since Pepic is a feminine man, he cannot date a highly-feminine female. He would have to find someone in the other twenty percent category.
Although those in opposite categories can get along, for successful relationships, partners must either both fall in the twenty percent category or both should be from the eighty percent category for the relationship to work. For the full video, please click on http://www.youtube.com/watch?v=ndLYSk6KvQU
Those who are incredibly analytical and have a certain order in life tend to be more masculine. Those that tend to be more observant and listening to their feelings and instincts tend to be more feminine explains Pepic.
Pepic also explains that masculinity or femininity can appear in certain situations. For example if a woman who is normally feminine has a high-powered job that requires much detail, she can put her masculinity mask on while at work and come home at the end of the day and be extremely feminine. For the full story, please click on what is the difference between men and women
Men and women also think differently, explains Pepic. He gives an example about a ten-year anniversary date on August 7. The woman spends time preparing for the sentimental moment to remember special times she has shared. She might buy a dress and plan a special event. The man cares about his anniversary on August 7, however, he sees it more as a date and not a spectacle.
Pepic explains that women are more caring and think from their heart. For men, everything is very logical and in sequence. This can sometimes make it seem like the man does not care, however, many times it is just due to a different interpretation.
The feminine is more creative, intuitive, and sentimental than the masculine. Because of this, many women take on careers that suit their identity such as teachers and artists. The masculine is more analytical, detail oriented, and structured. Because of this, many men become programmers or engineers. For the full video, please click on the masculine and feminine clearly defined
Although many genders will identify with either more masculinity or femininity, those people can also have attributes of the non-dominant gender, which opens up for compatibility.
Pepic says that if two genders are not agreeing on something, explaining why something should be done a certain way, either through an analytical approach or sentimental approach, can help the other understand more easily.
Pepic gives the example of a man not wanting to put his seatbelt on in the car. When a woman explains the analytical aspect of reasoning for wearing a seatbelt, the man may be more inept to perform the action willingly.
By understanding these two different personality types, relationships as a whole can and will work more effectively together instead of against one another.
Sead Pepic has recently started an organization called Conscious Counselor which brings awareness to our everyday living. With awareness, comes a broader scope of choices that we have. With more choices comes choosing what is more ideal for us, hence giving us a much more rich and fulfilled life. Some of his other videos are: how to deal with your emotions, what is happiness and becoming present, women's dating advice, how to last longer during sex, and he even talks about food, like how to make raw yogurt. You can look up Conscious Counselor on youtube to find these videos. To connect with Sead on facebook, please go to https://www.facebook.com/sead.pepic.14
Sead Pepic
Conscious Counselor
(845) 494-0969
http://ConsciousCounselor.com