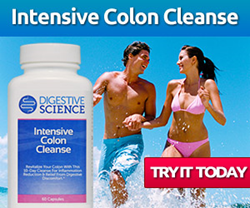 Los Angeles,Ca (PRWEB) March 11, 2014
Digestive Science adds stick packs to their high intensive colon cleansing system. The stick packs complement the use of the oral supplements, thus allowing the system to do more than just cleansing your colon. Using the two products together also promotes weight loss, a more radiant skin, and increased energy.
Click Here to Visit Official Website of Digestive Science
The oral supplement is responsible for initiating the health of the stomach flora while ensuring a faster and a more efficient digestion. The stick packs, on the other hand, relieve gas, bloating, and constipation. It also assures the user of a flatter stomach. Working together, the expected results are weight loss of up to 10 lbs, boosted energy, a more radiant-looking skin, and reduced allergic reactions. Overall, users will feel better and will be less sickly.
Colon problems can cause a range of health diseases that are easily triggered by food allergies, poor diet, parasites, stress, and certain drugs. Colon issues are related to sluggishness, fatigue, bloating, weight gain, constipation, low energy, illness, boating, gas, and an unhealthy skin. When left ignored, problems like foggy memory, allergic flare-ups and unflattering skin may be observed.
Click Here to Visit Official Website of Digestive Science
However, if the colon is cleansed properly, all of these will go away. Once the toxins are flushed out of the body, all healthy functions are restored to its normal level. The Digestive Science oral supplement is composed of natural laxatives that work slowly but surely during the product's 10-day colon cleansing program. Its formulation contains probiotics that encourage the healthy balance of the stomach flora. It also includes healthy dosages of vitamins, minerals, and herbs, to fully promote the regular functions and the overall health of the colon. Inflammation issues are also addressed. Ultimately, all toxins will be effectively drained out of the body.
Medical specialist Dr. Steven Lamm recommends the Digestive Science system as an intensive colon cleansing regimen. He says, "Digestive Science has created an excellent line of products that promote stomach health. With both the digestive patches and oral supplement working together, the optimum health of the gut is assured."
The system is designed to work within ten days. It works quickly yet gently to achieve the ultimate colon cleansing relief. Those who want to try Digestive Science are invited to make the purchase right now, while the 90-day risk-free program is still being offered. Additional discounts, bonuses, and gifts are also available.
For more information about the Digestive Science colon cleanse system, visit the product's official website at http://goo.gl/cUSWQw.