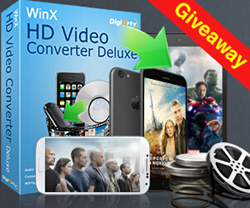 The giveaway, gift and discounts are all available now. First come, first served.
(PRWEB) June 17, 2015
Digiarty Software Inc., a persistent and trust-worthy multimedia developer, invites PC users nationwide to attend its big ongoing promo. It is the first midyear reward in the history of the company, and also the only official giveaway in the first half year of 2015. In a massive scale, the attention-grabbing activity has received thousands of Facebook and Twitter shares. "It will last for half a month until the end of June to benefit more participants," said Angie, Marketing Manager of Digiarty, "and above all, the giveaway is totally unconditional."
To get WinX HD Video Converter Deluxe free and learn more about the promo, please visit http://www.winxdvd.com/giveaway/
This big Mid-year Promo gives unconditional access to the latest version of WinX HD Video Converter Deluxe. The highlight is that it was just updated last week such that the number of supported online videos sites surpasses 300. But more specially, the video converter software has been tested for smooth downloading and conversion of 8K UHD videos.
By far, 4K video sources have been popularized step by step, and 8K UHD videos have begun to cut a conspicuous figure. Not much though, the 8K video samples are available online for testing and comparison. WinX HD Video Converter Deluxe, as an up-to-date video converting program, has made headway in the support for such cutting-edge technology. For one thing, this 8K video converter is capable of downloading 7680x4320 videos. For another, the decoding technique enables it to convert 8K video formats without quality loss obviously, or compress the ultra high resolution video files, for example, from 4320p to 2160p, 1080p, 720p and 480p.
Besides downloading and converting 4K and 8K UHD videos, WinX HD Video Converter Deluxe is in all a must-have utility for PC users. It specializes in processing all kinds of video files, specifically, converting MP4 to MP3, MKV to AVI, M2TS to WMV, VOB, FLV and so on. It facilitates the HD video playback on iPad, iPhone, Apple TV, Samsung, HTC, WP8, Surface, Sony PSP, Xperia, etc. Being easy to use, it is also so updating continuously as to be able to support the forthcoming Windows 10 OS.
Other parts of the 2015 Mid-year Promo include:

A free all-in-one media player as a gift and surprise. It can play any SD, HD (1080p) and UHD (even 8K) videos, DVDs, radio, and music (MP3, AAC, APE, FLAC, etc). Additionally, the AirPlay enabled feature can stream audio and video files. Also, it downloads online videos from 300+ websites. "Many people believe it to be cooler than KMPlayer, VLC and others," added by the developer.
Exclusive deals that contain an 80% off multipurpose pack. WinX DVD Ripper Platinum and WinX DVD Copy Pro that included. They all are full licensed and lifetime upgradable.
An exclusive offer for more flexible options.
"The giveaway, gift and discounts are all available now. First come, first served," invited by Digiarty with open arms.
Price and Availability
WinX HD Video Converter Deluxe (Ver. 5.6.0, built on June 11) is absolutely free (without any bundle or the like) during the period of Digiarty Mid-year Big Promo 2015, lasting until June 30. The version being given away, although does not support free updates, works the same as the Full Version being sold.
About Digiarty Software Inc.
Digiarty Software, Inc. specializes in facilitating the playback of multimedia and backup of DVDs, based on Windows (up to 8.1), Mac OS X (up to 10.10.3) and iOS (up to 8.3). Its technology and applications bring great convenience to a broad range of groups, families and individuals. Its business scope covers DVD Rippers, Video Converters, DVD Author, DVD copy software, online video downloader, audio video player, multimedia streaming app and so on across Apple, Android, Microsoft, Samsung, HTC, Google, Sony and other platforms or devices.