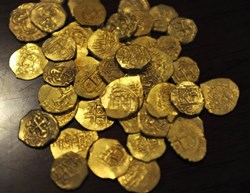 The KOIN is more valuable than gold or money because it is like money, it is also information that can be traded, given, exchanged, bartered or sold and because it is a work of art and beauty
New York, NY (PRWEB) January 01, 2014
EpiXat will release e-KOINs, a new form of both physical and digital currency, in early 2014. Set to go to 'mint' in Q1 2014, the new e-KOINs digital coins are both physical and 'cyber' or digital. Each KOIN is a digital treasure chest or vault for information and a beautiful, artistic, and functional object. The first series of KOINs will be issued for sale beginning in 2014, with each series following semi-annually through 2015, 2016 and 2017. KOINs will be available for purchase through online retailers like Amazon and in shops, stores and in malls.
KOINs will come in many shapes and sizes. Each series will contain one each of eight basic KOIN types. The physical KOINs will have unique names and designs and will look like doubloons, shekels, drachmas, and unusual never-seen-before coins that can be worn and shared physically. People can buy, sell and trade the physical KOINs with friends and partners. They can be kept as treasures or talismans or given as gifts.
The KOINs can also be used as digital coins or the keys to a digital information data haven. Technically, a KOIN is a Knowledge Operation Intelligence Network that can hold and process an enormous amount of special, private, secret, personal, business or fantasy information. The private information on each KOIN is handled and protected in the company's hyper secure proprietary cloud. In this sense a KOIN is like an ultra-secure safe deposit box.
"The KOIN is more valuable than gold or money because it is like money, it is also information that can be traded, given, exchanged, bartered or sold and because it is a work of art and beauty," said a spokesperson for EpiXat, the creators of e-KOINs. "This needs to be brought to the attention of people in many fields because of the way they can store very critical information on the physical KOIN device and also have it secure and un-tamperable in the cloud. This can be a lifesaver as well as something for fun and entertainment and profit."
About EpiXat
EpiXat is the creator of e-KOINs, a new form of physical and digital currency. Set to be released in 2014, KOINs are both digital cyber data havens and physical artistic, functional works of art that can be worn, shared and traded. For more information, visit: http://www.indiegogo.com/projects/e-koins--5/x/5581611.