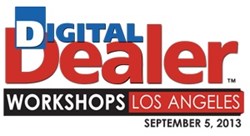 Nashville, TN (PRWEB) August 13, 2013
Dealer Communications, hosts of the Digital Dealer Conference & Expositions, in partnership with the Greater Los Angeles New Car Dealers' Association (GLANCDA), announces Digital Dealer Workshops Los Angeles (DDW LA) to be held this September 5th at the Sheraton Universal City.
"The Board of GLANCDA is very excited to partner with Dealer Communications to bring Digital Dealer Workshops to Los Angeles so our members can benefit from attending this event right in our own back yard," said Fritz Hitchcock, Hitchcock Automotive Resources and GLANCDA board member.
Digital Dealer Workshops is an opportunity for dealers, GMs and managers to learn from some of the best presenters from the bi-annual Digital Dealer Convention & Exposition, which draws two thousand dealers and managers annually, and is the must attend event for dealerships and groups that want to learn how to fully utilize the Internet and technology to sell and service more cars more profitably. But while the Digital Dealer Conferences are three days and require flights and hotel stays for most attendees, DDW's one-day format in the Los Angeles market allows local dealers and managers to attend and only leave the dealership for a day.
Having attended the Digital Dealer Conference & Exposition in Orlando last Spring, Pete Smith of Bob Smith Toyota said, "I am excited that GLANCDA members will have an opportunity to get a taste of what Digital Dealer is like." Pete is also Treasurer of GLANCDA.
With 16 sessions from which to choose covering the hottest topics such as digital marketing, social media, mobile, data & analytics, CRM, reputation management and fixed operations, an attendee can choose the sessions of most interest to them. But many/most dealerships send multiple attendees to cover multiple or even all 16 sessions. The conference wraps up with a Keynote presentation from Google. The cost to attend is $199, but GLANCDA members can attend for only $99, each additional attendee from the dealership is only $49.
Past DDWs have been attended by Dealer Principals, General Managers, General Sales Managers, Internet Sales Managers, e-Commerce Directors, BDC managers, CRM managers, Fixed Operations Managers, Marketing Directors and Social Media Managers.
Having produced successful DDWs in Houston and Seattle, Digital Dealer Workshops will be driving distance for the largest and most competitive car market in the country, Greater Los Angeles.
About the Greater Los Angeles New Car Dealers Association: Originally founded in 1907, the Greater Los Angeles New Car Dealers Association provides valuable education and philanthropic benefits to the Los Angeles Community. The Association believes that involvement with local charitable organizations makes a positive difference for everyone involved. GLANCDA is the franchised dealers who are committed to serving the communities of Greater Los Angeles County by promoting professionalism within the retail automotive industry. The association dealer members contribute not only to the economy of Los Angeles County, but also to the well-being and growth of their individual communities.
About Dealer Communications: Dealer Communications is the #1 information source for America's franchised automobile dealership owners and managers with Dealer magazine, six weekly department-specific e-newsletters, the highly-visited Dealer Communications website, webinars, Digital Dealer Workshops, and of course, the Digital Dealer Conference & Exposition.