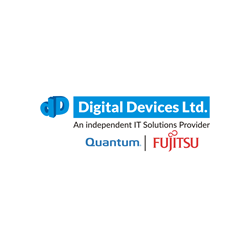 (PRWEB) December 19, 2014
With exponential data growth, Digital Devices has placed special focus on data storage solutions to better equip their customers for the future. Partnering with Fujitsu and Quantum, Digital Devices is offering customers a broad range of storage solutions from Enterprise and SME to customized solutions.
Digital Devices Ltd, a UK based company, provides data storage solutions to businesses including tape systems, virtual server data protection, tiered storage, object storage and big data management.
Ali Ameen, business development manager at Digital Devices, says: "Before creating our partnership with Fujitsu and Quantum, we were offering data storage solutions from other big name vendors. However, in a rapidly changing data growth environment, our focus is to provide our diverse customer base more agile and cost effective data storage offering. As each customer and their operational requirements are unique; we need to provide a better overall solution which keeps the capex within budget while providing long term benefits."
As a leading expert in scale-out storage, archive and data protection, Quantum provides solutions for capturing, sharing and preserving digital assets over the entire data lifecycle. It works with small businesses to major enterprises with more than 100,000 customers trusting Quantum to address their most demanding data workflow challenges. With Quantum, customers can Be Certain™ they have the end-to-end storage foundation to maximise the value of their data by making it accessible whenever and wherever needed, retaining it indefinitely and reducing total cost and complexity.
"We're pleased that Digital Devices have decided to make us one of its trusted partners," said Christo Conidaris, regional sales director. "They'll be utilising Quantum's disk- and tape-based data protection and archiving solutions to help it enhance and build on its current storage offering."
Frank Reichart, Director of Storage Product Marketing, Global Marketing, Fujitsu says:
"Incredible data growth has created huge challenges for storage professionals in guaranteeing uninterrupted access to business data and maintaining differentiated server levels to various lines of business. Based on a business centric-storage approach, Fujitsu continuously introduces innovation for its ETERNUS storage products enabling the company to provide better service levels while reducing operational efforts and costs."
Exponential data growth increases the amount of data hosted by individual storage systems which consequently exposes businesses to a higher impact from planned or unplanned system downtime. The ETERNUS Storage Cluster technology offers application-transparent failover from one storage array to another in the event that one system stops performing. The failover can be triggered automatically in case of system failures, or can be executed manually for maintenance or minor failures. By mirroring data in real time and switching transparently from one system to the other, the data assets are completely protected and business processes are safe from any interruption.
Ameen concludes: "We are confident that our extensive product offering, pre-sales consultancy, including solution architecture, and post-sales support will give our customers the confidence to take the next step in their organizations growth."
About Digital Devices Ltd.
Digital Devices Ltd is an independent IT solutions provider specializing in data storage solutions, networking solutions, servers, computing, interactive and power management systems. Digital Devices Ltd has extensive market knowledge, consultative approach and consistent service levels which makes them a solution provider of choice across industry sectors in the UK including, finance, media and entertainment, education, science and engineering, healthcare and the public sector.
Digital Devices Ltd. also provides IT solutions featuring product ranges from HP, Cisco, IBM, Juniper, Synology, Dell, Epson, Brocade, EMC and Eaton power management systems.
For more information, please see
http://www.digitaldevicesonline.co.uk
http://www.digitaldevicesonline.com
Follow us on LinkedIn:
https://www.linkedin.com/company/digital-devices-ltd
About Quantum
Quantum is a leading expert in scale-out storage, archive and data protection, providing solutions for sharing, preserving and accessing digital assets over the entire data lifecycle. From small businesses to major enterprises, more than 100,000 customers have trusted Quantum to address their most demanding data workflow challenges.
See how at http://www.quantum.com/customerstories
About Fujitsu
Fujitsu is the leading Japanese information and communication technology (ICT) company offering a full range of technology products, solutions and services. Approximately 162,000 Fujitsu people support customers in more than 100 countries. We use our experience and the power of ICT to shape the future of society with our customers. For more information, please see http://www.fujitsu.com/uk/ and reference here.
Contact:
Ali Ameen
Tel: 0203 772 8475
Email: ameen(at)digitaldevicesonline(dot)co(dot)uk
Company: Digital Devices Ltd.
Business Development Manager