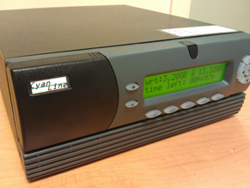 FDAS gives investigators a head start by allowing them to preview what's on the computer instantly from the device or from a remote network... This is huge for investigations where time is of the essence.
Eatontown, NJ (PRWEB) August 08, 2013
The next-generation computer forensic system has arrived and finally provides investigators the digital evidence needed to not only simplify the investigative process, but also save them time and money. CyanLine, a company specializing in computer forensics and network security solutions to help law enforcement agencies, companies, and law firms on both a domestic and international level, introduced its breakthrough Fast Disk Acquisition System (FDAS).
The first of its kind to make an image directly to network storage, along with the ability to host a read-only file share, FDAS grants investigators the power to instantly begin dissecting digital evidence as the acquisition starts. This new development in computer forensic analysis cuts time and physical storage limitations.
Steven Branigan, CyanLine CEO and FDAS creator, said the breakthrough system is essential for investigating any crime that involves computer evidence or gathering information for an e-discovery request.
"Digital evidence has helped police solve crimes as varied as child pornography, identity theft, and murder," noted the New York State Police Department editor in an article in The Police Chief magazine. "Yet few police departments have the resources to collect and analyze digital evidence on their own."
In addition to real-time previewing of an image, FDAS is noted for its 12 GB/minute acquisition speed. Branigan attests that by spending fewer hours on acquisition, investigators can spend more time on data analysis. "I've witnessed countless investigators go on location, take 4-6 hours to make a forensic image, arrive back at the office and only then realize they hadn't made a valid copy because the original disk was either password-protected or the wrong disk," he said. "FDAS gives investigators a head start by allowing them to preview what's on the computer instantly from the device or from a remote network. They know immediately if they have the right disk, if it can be properly copied, and can even begin analyzing the data right then and there. This is huge for investigations where time is of the essence."
Digital evidence plays a central role in providing solid answers in many criminal investigations. According to a journal in Forensic Science Communications, rather than producing interpretative conclusions, as in many forensic disciplines, computer forensic science produces direct information and data that may have significance in a case.
"It's vital to get that copy as cheaply and quickly as possible so investigators can focus on what's most important—analysis. The analysis is where value is added and skills can be put to use by identifying data critical to a case," Branigan affirmed.
FDAS offers a solution that is easy to use, secure and fast. For more information about this pioneering product, visit http://www.CyanLine.com.
About Cyanline
Based in New Jersey, CyanLine specializes in the prevention, detection and investigation of cyber crimes. Serving both victims of high-tech cyber crime, providing services in both a professional and confidential manner that is client-focused and results-driven. Designed with state-of-the-art technology, CyanLine's products work to deliver quality, reliable results.
Forensic scientist and licensed private investigator, Steven Branigan, CEO, has made it his mission to create forensically sound products to advance the investigative industry. Renowned speaker and instructor, Branigan is an active member in the High Technology Crime Investigation Association (HTCIA), Federal Bureau Investigation's Infragard, New Jersey License Private Investigators Association, and on the Digital Forensics Certification Board. Branigan is the author of High Tech Crimes Revealed and recently published an article in the Journal of Forensic Sciences. Branigan has received awards from the U.S. Secret Service and New Jersey State Police.