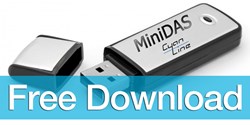 We incorporated some of the brains of FDAS into MiniDAS to allow law enforcement agencies facing budget cuts the ability to see & experience the significance of metadata, which most don't even know exist, but can change the outcome of an investigation.
Eatontown, NJ (PRWEB) November 14, 2013
CyanLine, a leader in computer forensics and network security solutions, is now offering law enforcement agencies free software that grants them the power to capture and unlock never-before-seen bonus data. Inspired by CyanLine's Fast Disk Acquisition System (FDAS), MiniDAS allows investigators to obtain critical metadata, also known as "data about the data," and collect a forensic image, and is available for free to all law enforcement agencies worldwide.
"We've incorporated some of the brains of FDAS into MiniDAS to allow law enforcement agencies facing budget cuts the ability to see and experience the significance of metadata, which most don't even know exist, but can change the outcome of an investigation," said Steven Branigan, CyanLine CEO and FDAS inventor. "Investigators can use MiniDAS to find information about the disk drive itself, including the number of hours it's been in use, how many times a device was turned on, whether the disk is password protected and more."
Through this exclusive offer, Branigan hopes to introduce local, domestic and international law enforcement agencies that are facing budget crises to an entirely new computer forensic data-collecting software and offer an economical alternative to investigating and solving crimes.
"As police departments across the nation face budget cuts, and are therefore limited in resources and staffing levels, community policing strategies are essential to maintaining effective public safety services within this changing economy," noted Bernard Melekian, Office of Community Oriented Policing Services director in a U.S. Department of Justice publication.
MiniDAS can uncover a suspect's hard disk's age and usage and reveal how long a drive was in use. Using this information, an investigator can conclude that a disk has been replaced to hide evidence. "If investigators search a three-year-old computer, but see in the metadata that the hard drive was only in use for 20 hours, they can infer that the suspect's disk offered incorrect evidence," Branigan stated. "We're on a mission to make these agencies aware that this data exists, since it can be the difference in whether a criminal either walks away unscathed or pays for their crimes."
This free subset of the highly regarded FDAS forensic imaging system allows law enforcement agencies the chance to capture a complete forensic image of a subject's disk along with information from the disk controller, known as disk metadata. To capture the metadata, investigators boot the software using their own laptops, run the program, plug in the subject's disk drive and choose to either capture just the metadata or make a full forensic image.
Kroll, a company that provides trusted intelligence and scalable technology solutions to companies, investors and governments, has successfully incorporated MiniDAS in its operations. "CyanLine's MiniDAS provides us substantial evidence through an interface that is easy to operate. The information that it provides can be critical in determining the authenticity of a subject's hard drive based on its age and usage. Having this tool makes it possible to detect if the hard drive that is being examined is the original or is a replacement that was provided for the purpose of hindering an investigation," said Erik Venema, a Managing Consultant with Kroll.
Laptops with an eSATA connection can use MiniDAS to seize metadata and create a forensic image. This free offer is exclusive to law enforcement agencies across the globe, and instructions on how to install and use MiniDAS can be found here. Corporations, law firms and all others interested in MiniDAS are encouraged to contact CyanLine to find out how to get their own copy of this vital software at http://www.cyanline.com.
About Cyanline
Based in New Jersey, CyanLine specializes in computer forensics and network security solutions to help individuals, companies, law firms, and law enforcement agencies on both a domestic and international level. Serving both victims of high-tech cyber crime, providing services in both a professional and confidential manner that is client-focused and results-driven. Designed with state-of-the-art technology, CyanLine's products work to deliver quality, reliable results.
Forensic scientist and licensed private investigator, Steven Branigan, CEO, has made it his mission to create forensically sound products to advance the investigative industry. Renowned speaker and instructor, Branigan is an active member in the High Technology Crime Investigation Association (HTCIA), Federal Bureau Investigation's Infragard, New Jersey License Private Investigators Association, and on the Digital Forensics Certification Board. Branigan is the author of High Tech Crimes Revealed and recently published an article in the Journal of Forensic Sciences. Branigan has received awards from the U.S. Secret Service and New Jersey State Police.