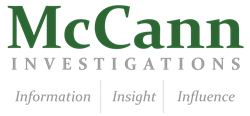 Many criminal cases hinge on evidence found during computer forensics examinations.
Houston, TX (PRWEB) February 24, 2014
McCann Investigations, a Texas firm that provides highly technical private investigations and digital security services, uses a wide range of computer forensics services to secure the digital evidence that is often necessary to solve crimes.
Many perpetrators leave behind digital traces of their activities within computers, hard drives, networks and more. McCann's private investigators in Houston uncover these traces and analyze the evidence left behind to make the connection to the crime and provide irrefutable evidence of guilt.
"Many criminal cases hinge on the evidence found during computer forensic examinations," said Daniel Weiss, Managing Partner at McCann Investigations. "All of the investigators at our Houston location have been thoroughly trained in the skills necessary to uncover this evidence, and have a great deal of experience in their field. In this way, we can provide some valuable assurance to all of our clients that their needs will be met and that we will pinpoint the perpetrator."
During a computer forensics examination, McCann's Houston security experts create forensically sound copies of information on desktop computers, laptops, external hard drives or flash drives so that they can examine the information without affecting the data's original source. This is a critical step in the investigation that requires the proper technology and a great deal of skill.
McCann Investigations has all of the most hi-tech equipment available for its computer forensics experts in Houston to use in their cases, which allows them to provide clients with an extremely high-level of service.
"Our combination of cutting-edge technology and investigators who are experienced and passionate in their work makes us Houston's go-to source for computer forensics examinations," said Weiss. "Let us work with you to discover the evidence you need to make progress in your case."
For more information about the services provided by McCann Investigations in the Houston area, visit the company's website at http://www.mccanninvestigations.com and follow the company on Twitter at @mccangi.
About McCann Investigations
McCann Investigations is a Texas-based private investigations practice focused on comprehensive investigations incorporating digital forensics, surveillance, undercover work and background checks for clients in various case types. Service areas include intellectual property theft, non-compete enforcement, fraud, embezzlement and family law. McCann Investigators are experts in the latest computer forensics tools and are licensed with the state of Texas. McCann examiners have provided expert testimony and reporting in hundreds of cases across the state.