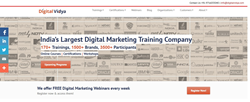 This is a brilliant opportunity that enable both students and professionals to build their career in the field of digital marketing.
(PRWEB) February 25, 2014
Digital Vidya, India's leading Digital Marketing Education Company announces a global Digital Marketing Internship Program starting March 1, 2014. This program is available to students and professionals who are interested in building or forwarding their career in Digital Marketing. The last date for application is Feb 27, 2014.
With more than 1 billion global users, Digital Media is making a significant impact in our everyday lives. Organizations worldwide are waking up to the opportunity of this revolutionary medium to fulfill various business objectives ranging from Sales, Marketing, CRM, Product Development and Research. A Digital Marketing professional can expect to earn anywhere between Rs 15,000 and Rs 150,000/month.
The Digital Marketing Internship by Digital Vidya can be an entry into the ever-expanding world of Digital Media. Speaking on the launch of this Digital Marketing internship program, Kapil Nakra, Co-founder of Digital Vidya, said, "This is a brilliant opportunity that enable both students and professionals to build their career in the field of digital marketing."
In this program the participants will gain exposure across various aspects of Digital Marketing such as Search Engine Optimization (SEO), Search Engine Marketing (SEM), Social Media Marketing (SMM), Email Marketing and Web Analytics. Each participant will learn through research, writing and live participation on Digital Mediums.
Anyone who has strong written communication skills and can devote a minimum of 20 hours a week for 2 or more months is eligible to apply for this program. The intern will be working from home, and should have a reliable Internet connection.
Each participant will get complimentary access to self-study Digital Marketing courses to acquire in-depth learning and will get certificate of internship on successful completion of the program. Exceptional candidates will get an opportunity for full time employment at either Digital Vidya or other brands and agencies, which are interested in hiring from Digital Vidya.
About Digital Vidya
Digital Vidya is India's largest and most respected Digital Marketing training company. Since January 2010, over 3500 professionals and students from more than 1500 organizations and institutions such as Adobe, Warner Bros, eBay, Star TV, Cisco, GE, MakeMyTrip, Naukri, Citibank, Toyota, Intel, ITC, Ogilvy, Pepsi, IIM Lucknow, IIM Ahmedabad and IIT Mumbai have participated in more than 170 training programs by Digital Vidya across Asia and Middle East. Digital Vidya also conducts in-house, customized training programs for Corporations & Academic Institutions.
For Media queries, please contact:
Meenakshi Mehta
PR & Communication Lead, Digital Vidya
Email: pr(at)digitalvidya(dot)com
Ph: +91-11-28051522