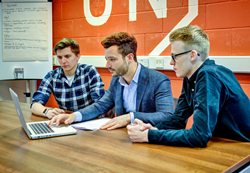 "Our clients don't need to know anything about digital marketing, they just see the value to their bottom line."
(PRWEB UK) 6 September 2016
With SMEs, defined as any business with fewer than 250 employees, providing a vital backbone to the UK's economic growth, Unity Online identified the untapped potential for SMEs to put their local directory profile in front of a worldwide market due to a lack of a complete digital marketing solutions for smaller businesses.
Headed up by Managing Director Alex Pattenden, Unity Online has grown from a two-man start-up to a team of nine digital specialists operating from its modern office in Needham Market, Suffolk. It has become a welcome digital partner to small local businesses right up to multi-nationals, helping them to increase their revenue through online platforms. Unity Online now works with over 100 clients UK-wide, across a diverse range of sectors.
Alex explained how understanding the needs of SMEs in the region and dispelling the common fear amongst business owners when it comes to embracing the fast-paced digital world, has been central to their success and evolved their position in the market:
"Quite quickly, it became apparent that there was a gap in the market for a 'go-to' digital solution for SMEs; one that can demystify the world of web and make it accessible for all businesses. Our rebrand reflects our reposition as a digital marketing partner to our clients. It is our job to understand their business goals before coming up with a strategy and delivering tangible, measurable results. Crucially, our clients don't need to know anything about digital marketing, they just see the value to their bottom line."
Website design and development, search engine optimisation (SEO), Google Adwords, including pay-per-click (PPC) online advertising, and social media management are amongst the services provided by Unity Online. In repositioning its offering, the company has launched a fresh new look and a website that allows visitors to easily digest a range of digital solutions. The website also features its invaluable Advice Centre, where the latest updates and announcements in the ever-changing digital arena will be published to keep the business community in the know.
Alex continued: "Digital marketing is a very broad and technical industry, which is why we have a team of experts with years of experience who specialise in the various existing and emerging digital fields. The breadth of service that we offer is unusual, but it is necessary so our clients can find all the support they need in one place."
For more information on Unity Online and its range of digital marketing solutions, or to book a consultation, visit the website http://unity.online.