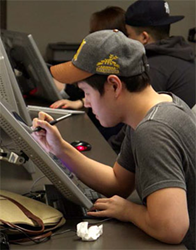 I am trying to get them to a level of competency so they can exceed expectations on their first job.
Los Angeles, CA (PRWEB) February 28, 2014
Otis College of Art and Design has been awarded a major grant for digital media upgrades that will enhance classroom and studio instruction, serving the College's entire student body. Specifically, the funds provide for upgrades to digital media control systems in traditional classrooms as well as the first digitally enhanced studio spaces on-campus. The project, scheduled for completion in Fall 2014, exemplifies the collegial spirit ever present on the Otis campus as it brings together information systems, library, and liberal arts and sciences staff under the direction of Academic Computing Director Felipe Gutiérrez.
Keeping students focused and attentive to detail during lengthy studio classes is a prime concern for Dave Schultze, now in his 11th year of teaching toy design at Otis. A licensed architect, principal of SchultzeWORKS design studio, and instructor of the first Rhinoceros (Rhino) software course for Lynda.com, the industry leader in online digital education, Schultze says his classes on 3D visualization would not be possible without the College's strong academic computing services. His students learn the principles of three-dimensional design by developing simple, imaginative objects—robots, vehicles, spaceships, and toy figurines—using the most sophisticated applications—Rhino, V-Ray, Bongo, Photoshop, and AfterFX.
Schultze explains that digital design has progressed over three decades but high resolution projectors have only been available in the past few years. Picture clarity is crucial for students that watch his detailed demonstrations of techniques for building 3D models and processes for 3D rendering, animation, and compositing, as well as for critiques of their own work, which is uploaded to the College's online Learning Management System, O-Space, or the video-sharing website Vimeo. The ultimate goal is job preparedness. Schultze explains, "With respect to technology, the classrooms at Otis and the workplace are one in the same. I give my students a very real world experience. It is very deep software, all the stuff I teach. I want my students to start using it so they can be competitive. If you don't know 3D, you're going to have an impossible time getting a job as a designer. I am trying to get them to a level of competency so they can exceed expectations on their first job."
Fast approaching its centennial anniversary, Otis is investing in state-of-the-art technology that would have been unimaginable at the time of its founding in 1918. From its leadership as an early adopter of tablet display technology with classrooms dedicated for teaching on Wacom's Cintiq line, to liberal arts and sciences courses offered on iPads, and now wireless digital presentation systems in both traditional classrooms and art studios, information technology underlies Otis' commitment to academic excellence.
The Ahmanson Foundation is a longstanding, generous supporter of Otis. In addition to this award for new academic computing technology, the Foundation established an endowed scholarship fund, The Ahmanson Foundation Graduate Scholarship, and also provides annual support to the Otis Student Scholarship Fund through both undergraduate scholarships and the Ahmanson Veteran Scholarship Initiative, providing support to recruit, retain, and educate student veterans.
About Otis College of Art and Design
Founded in Los Angeles in 1918, Otis College of Art and Design prepares diverse students of art and design to enrich our world through their creativity, their skill, and their vision. The College offers an interdisciplinary education for 1,100 full-time students, awarding BFA degrees in Advertising, Architecture/Landscape/Interiors, Digital Media, Fashion Design, Graphic Design, Illustration, Painting, Photography, Product Design, Sculpture/New Genres, and Toy Design; and MFA degrees in Fine Arts, Graphic Design, Public Practice, and Writing. Continuing Education offers certificate programs as well as personal and professional development courses. Additional information is available at http://www.otis.edu.
About the Ahmanson Foundation
The Ahmanson Foundation primarily serves Los Angeles County and awards grants for cultural projects in the arts and humanities, education, health care, programs focusing on the homeless and underserved populations, and a wide range of human services. Additional information is available at theahmansonfoundation.org.