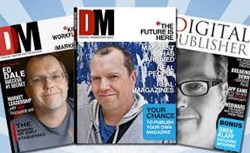 We've put together bonus packages before although the $5000 package is by far the largest
Miami, Florida (PRWEB) August 22, 2013
Marketing companies are now creating bonus value offers for pairing with instructional programs online. One marketing company is creating a frenzy with its Digital Publishing Blueprint bonus downloads online. The BrianHanson.com website has now created its original content downloads worth $5000 that are given away with the enrollment into the Ed Dale Magcast training system at http://brianhanson.com/digital-publishing-blueprint-bonuses.
This bonus amount is now officially the largest produced by the Brian Hanson company. The exposure this dollar amount is providing this company is attracting more attention from small businesses and others researching the Ed Dale Digital Publishing Blueprint training online.
"We've put together bonus packages before although the $5000 package is by far the largest," said Brian Hanson, owner and founder of the BrianHanson.com company. This company is part of a group of more than 300 individual web properties owned by these marketing professionals online.
A portion of the bonus package now available includes product creation courses for individuals or business owners interested in creating hands-off products that can be sold through online retailers.
Brian Hanson is regarded in the top one percent of outsourcing professionals in business. A second bonus now includes a complete outsourcing primer for small businesses or marketers seeking how to scale business operations online.
The original content that is packaged with the entire $5000 Digital Marketing Blueprint bonuses online was designed and created through the first portion of 2013. The research and development that has gone into creating these bonuses is helping to produce more accurate content that is relevant for businesses marketing online.
"We're now regarded as one of the top sources for bonus offers for training products released on the Internet," Hanson said. Additional bonus content is currently in production for launch early next year as new programs are released by top training products manufacturers.
Bonus downloads information is now available on the http://www.brianhanson.com website and other published content can be accessed from previous company releases online.
About BrianHanson.com
The BrianHanson.com company is part of over 300 websites online that are owned and controlled by Brian Hanson. This website provides instant resources for owners of businesses, marketers and entrepreneurs marketing products and services online. The BrianHanson.com company website now features downloads, e-books and other original content that can help to build a larger source of generated income when applied to a marketing campaign. Brian Hanson is a private consultant now providing one-on-one coaching for small business online marketing strategies.