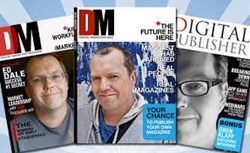 Our high dollar amount for the bonus package has caused quite a stir in some online forums.
Albany, New York (PRWEB) August 26, 2013
The BrianHanson.com company has caused controversy this month by putting together a $5000 bonus package that is included for no cost with each enrollment into the Ed Dale Digital Publishing Blueprint training online at http://brianhanson.com/digital-publishing-blueprint-bonuses.
Ed Dale's Digital Publishing Blueprint launch is the version 2.0 of his highly successful Magcast publishing system. Entrepreneurs, business owners and marketers using this system are building larger customer bases online through the app and magazine publishing tools provided.
"Our high dollar amount for the bonus package has caused quite a stir in some online forums," said Brian Hanson, owner of the BrianHanson.com company.
Bonus packages are one way that this company has selected to compete with other companies providing access to training materials online.
The private coaching bonus is one of the most talked about portions of the $5000 Digital Publishing Blueprint bonuses this month. Aside from the marketing that Ed Dale's system teaches, the private coaching bonus is expanding on the techniques presented to boost the marketing results.
"My private coaching is now included with the bonuses that normally costs $1000 for one session," Hanson added. Marketers promoting business training systems online frequently compete with bonuses to achieve higher recognition from training system enrollees.
The Ed Dale Digital Publishing Blueprint bonuses that have caused a frenzy this month are currently available for download and posted on the Brian Hanson website. Updates to the bonuses and other content that is offered from this marketing resource online are expected to be announced before the end of this month.
Additional resources that are tied into the Digital Publishing Blueprint tools are currently accessible from the resources area on the company website. This area is updated weekly with no charge access to some of the tools that business owners, entrepreneurs and marketers can use when developing online marketing strategies.
About BrianHanson.com
The BrianHanson.com company was launched in 2012 to provide an immediate online resource for business owners, entrepreneurs and marketers to use when promoting services or products using tools on the Internet. This company is part of a large group of owned websites by Brian Hanson that currently includes more than 300 successful properties. The distributed information that is accessible on the BrianHanson.com website is now researched by thousands of monthly visitors who download, read and syndicate the content published by this resource online.