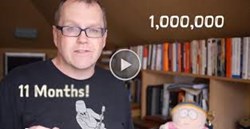 Magazine and app publishing has changed the way that business owners and marketers are communicating with customers.
Los Angeles, California (PRWEB) August 28, 2013
The bonus offers that have been announced this year by the BrianHanson.com company are smaller in comparison to the recently promoted $5000 bonuses this month. These Digital Publishing Blueprint bonuses are now extended for business owners, marketers and others accessing this content at http://brianhanson.com/digital-publishing-blueprint-bonuses.
Bonus offers are now being engineered by some marketing companies to promote training products that are useful in the business industry.
The extended bonuses that are currently offered promote unique content that expands on the amount of training is provided packaged with the Ed Dale Magcast training created for the publishing industry.
"Magazine and app publishing has changed the way that business owners and marketers are communicating with customers," said a spokesman for the Brian Hanson website.
The training currently provided explores the Apple publishing systems for magazines and apps that are available as an alternative to the Amazon Kindle system preferred by some companies for e-books and smaller publications.
The extended bonus offers include private coaching, product creation and additional traffic generation techniques. This content was built to expand on the Magcast software training or for use with existing marketing promotions online.
"The $5000 bonuses that are extended are setting new download records for our website compared with previous product launches in 2013," the spokesman added.
The dollar amount mixed with the content that is offered as bonuses is contributing to setting a new trend for quality in the marketing industry.
Direct downloads can be made for the extended Digital Publishing Blueprint after successful enrollment into the Ed Dale training program online. These bonuses are available immediately upon proof of enrollment and are updated frequently as new information is provided for marketing strategies online.
About BrianHanson.com
The BrianHanson.com company currently offers marketing strategies, advice and helpful information to owners of businesses and entrepreneurs seeking ways to expand income generation online. The company network of websites now totals more than 300 that are owned and controlled daily online. The BrianHanson.com company resources include no charge and premium content access online through blog content or downloadable e-books for website visitors. This company reviews training programs and marketing tools on a regular basis to provide accurate information for professionals considering purchasing these systems.