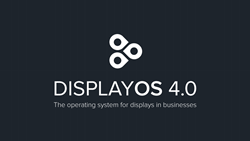 Los Angeles, CA (PRWEB) July 09, 2015
Enplug (enplug.com), creators of the operating system for displays in businesses, announced the latest version of its software, DisplayOS 4.0. The update introduces a host of new features, including the industry's first Public App Market (enplug.com/apps), a redesigned web dashboard, a new on-screen notification system, and various new options for users to customize their displays.
The announcement of DisplayOS 4.0 reinforces the company's mission of being the universal platform for powering displays in businesses. Enplug's App Market brings the "App Store" paradigm of mobile computing to digital signage. Anyone can personalize their displays with custom content in seconds by simply browsing the Enplug App Market and selecting from a variety of apps for different use cases.
"Enplug's App Market is a major step in democratizing digital signage," said Navdeep Reddy, Co-Founder, Enplug. "Until now, the ability to curate truly custom content for digital displays was the exclusive domain of a handful of companies. Enplug and DisplayOS 4.0 allows anybody to develop custom applications via our SDK and offer them for public consumption on the Enplug App Market."
"Powering a network of displays with custom content is now no more complex than using your phone." added Navdeep.
DisplayOS 4.0 also includes an improved web dashboard, which provides users a more streamlined and configurable app and display management experience. The new dashboard seamlessly integrates with the Enplug App Market, and new features like user selectable transition animations allow users to further customize their displays.
DisplayOS 4.0's upgraded on-screen interface features a new notification system specially engineered to increase viewer engagement and provide users with gratifying feedback.
"We've learned an incredible amount from our customers around the world. We're constantly evaluating and questioning how we can make our product better for them," said Zach Spitulski, Co-Founder and Chief Product Officer at Enplug. "With this free update, we're making our product even more intuitive, engaging, and frictionless."
DisplayOS 4.0 is set to be released this fall, with the Enplug App Market already publicly available at enplug.com/apps.
To learn more about DisplayOS 4.0, visit enplug.com/displayos.
About Enplug
Enplug's DisplayOS is the operating system for displays in businesses, which transforms any TV or display into a real-time marketing tool. Enplug customers include global brands like WeWork, Marriott, Porsche and Warner Brothers.
Enplug is headquartered in Los Angeles, CA. For more information, visit enplug.com.