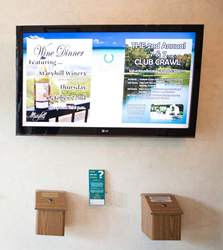 Everyone has responded favorably. In fact, the displays have become an information hub, and everyone stops to look for updates.
Sterling, VA (PRWEB) October 06, 2015
Laurel Oak Country Club, a private, member-owned and Audubon-certified golf & country club in Sarasota FL, has selected Mvix as their digital signage provider. The digital signage solution has helped the club to strengthen the club-member relationships through improved communication and increase the members' involvement with the club.
Laurel Oak Country Club first opened its doors in 1990, and in 1999, it was turned over to its members. Its outstanding facilities include two championship golf courses, 12 Har-Tru tennis courts, a full-size heated swimming pool and a beautiful 45,000 square foot clubhouse. Nestled on over 800 peaceful acres near downtown Sarasota, the 36-hole private club is within easy reach of the finest beaches in Florida, including Siesta Key Beach which was crowned "The Best Beach in America" by TripAdvisor. Laurel Oak's inclusive membership strategy has played a big part in Laurel Oak's success, including the golf courses' redesign by world-renowned golf course architects, Rees Jones and Gary Player.
This unique approach to ownership empowers the members to share in the Club's commitment to a continuous and financially responsible growth. It has also inspired management to be transparent in their operations and communication. "We want to open the communication pathways, and connect more with our members," said Terry Murphy, the Laurel Oak Country Club Executive Assistant. "We wanted a solution that would enable us to engage more with our members." Digital signage easily fulfilled this need. It was a natural choice because it not only engages members, but it also creates familiarity and boosts cognitive retention, encouraging members to participate in more events and activities.
Digital signage has proven to be an extremely effective communications medium. For Laurel Oak, it provides members with a comprehensive overview of what the club has to offer. Members and guests are easily informed of meetings and upcoming events, and management is able to easily highlight activities at the club. Digital Signage has become an essential resource for members, keeping them in the loop on club matters. "It's also a cleaner, and more modern approach to sharing information," added Terry. "It enhances the experience of our club members and lends to the value of membership."
Terry and her team evaluated 3 digital signage providers before selecting Mvix. She explained that their golf and tennis members, who are loyal, active and really enjoy their club, were looking for an attractive and "current" messaging solution that'll complete their experience. "The Mvix digital information displays did this for them," said Terry. "Everyone has responded favorably. In fact, the displays have become an information hub, and everyone stops to look for updates."
Mvix was an easy win because of its simple and intuitive user interface. The digital signage solution has simplified the process of creating attractive layouts that draws eyeballs. Having the cloud-based software means updates can be made on the fly, so members always have access to the most current information. "We are not bound to a contract or recurring fees. There was a one-time fee for the media player, and the software is free! You just cannot beat the value in this solution!"
"Digital signage is a great vehicle for effective and efficient communication," said Mike Kilian, the Mvix Director of Business Development. "We're very excited to partner with Laurel Oak Country Club to meet their communication needs. This is a club that values transparency in their operations and communications, and we're much honored to complement these efforts."