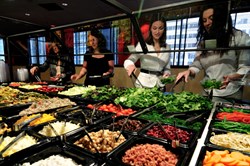 'Mvix signage systems offer the best value, and have remarkable customer reviews. These systems have performed flawlessly and exactly as I expected,' says Jeff.
Sterling, VA (PRWEB) February 18, 2014
The fast growing fast-casual locations "Market Thyme" and "Market Creations" announce the completion of digital upgrade projects which included installation of dynamic digital menu boards across all locations. Market Thyme & Market Creations are one of many fast-casual restaurants owned and operated by founder Bryan Choi. Since 1988, Bryan has been a pioneer and promoter of a straightforward business approach: fresh, high quality foods in a clean and elegant venue.
One of the fastest growing concepts of the restaurant industry over the last decade, and in 2014 has been the fast casual restaurant. The concept is a marriage between quick service and a newer consumer demand for fresher, healthier food options. As one of the fastest growing segment in the foodservice industry, fast-casuals appeal to young professionals who are digitally connected and gravitate toward a contemporary lifestyle. "With this digital upgrade to our locations we hope to provide an enjoyable dining experience by creating an atmosphere that stimulates our guests through sight, sound, and of course taste," said Jeffrey Chang, Managing Director at Market Creations.
The centrepiece of this project were Mvix digital signage screens, menu boards and dynamic video displays installed across all locations in Chicago and Cleveland. The use of large-panel digital screens to display content such as menu information in place of traditional paper menus and signboards, enables dynamic content updates keeping the menu information fresh and relevant to ever-changing food items being served. "We manually change them daily for our specials for that particular day. It enhances the 'professional' image of our restaurants. Mvix signage systems offer the best value, and have remarkable customer reviews. These systems have performed flawlessly and exactly as I expected," says Jeff. Featuring a wide cuisine variety, from paninis to sushi, dynamic menu board systems are managed remotely from the corporate office located in Chicago downtown.
Founded in 2005, Mvix, a digital signage solution company, has been working with innovative restaurateurs and future-forward businesses to help enhance customer experience. It has become one of the industry leaders in the field of digital signage solutions, ranging from hardware, software, content planning, managed services and ROI consultations. "Our goal is to work with visionaries like Bryan and Jeff and help them build iconic locations like Market Thyme and Market Creations. Jeff's fast casuals are role model concepts and we are very excited to be a part of it," said Ross McClymonds, VP of Global Sales at Mvix.
"Mvix has been a perfect partner during this project. These systems allow us to update our menu boards not only every day to display daily specials, but multiple times during the day automatically, allowing them to switch from breakfast to lunch or highlight new menu items / specials. Their technical support team was by far one of the best ones we have dealt across any of our technology vendors. It's a solid company, with a versatile yet robust product. I think they are the game changers," explained Jeffrey.
To learn more about Market Creations and Market Thyme, visit http://www.marketthyme.com. For more information about Mvix's digital signage solutions, visit mvixdigitalsignage.com; BrandSignage.com, or SignageCreator.com.