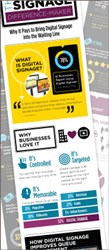 Our studies show that digital signage reduces perceived wait times at checkout by as much as 35%.
Valencia, CA (PRWEB) January 08, 2014
Lavi Industries introduces its most recent infographic, The Digital Signage Difference Maker, to illustrate how digital signage works, why businesses are taking advantage of its benefits, and how it ultimately improves queue management.
Digital signage gives organizations the ability to display images and videos on electronic displays strategically positioned in-store to benefit both customers and companies. The infographic explains why businesses love these displays and the system designed to control them.
The information delivered is controlled and targeted, allowing messages to be changed at any time ensuring they get to the right people, at the right time and place. Additionally, digital signage is the most memorable form of advertising at a recall rate of 52%. Television comes in second at 32%.
The infographic continues by explaining how digital signage improves queue management and contributes to obtaining and keeping satisfied customers. Digital signage reduces perceived wait times by keeping the customers occupied and not giving them a chance to think about the wait at hand.
Customer expectations are managed by keeping everyone informed of expected wait times and providing other pertinent real-time information. Ultimately, digital signage can help boost merchandise sales. According to a FedEx Office Study, nearly 7 in 10 customers have purchased a product or service because a sign caught their eye.
"Our studies show that digital signage reduces perceived wait times at checkout by as much as 35%," remarks Perry Kuklin, Director of Marketing and Business Development for Lavi Industries. "This feeling makes customers happier and less likely to renege on their purchases."
To view the full infographic, visit http://www2.lavi.com/digital-signage-infographic. Bloggers and other writers are encouraged to share and publish the infographic using the embed code provided.
About Lavi Industries
Based in Valencia, California, Lavi Industries is the premier provider of public guidance, crowd control solutions, and queue management systems in North America. Leveraging its portfolio of world-class brands – Beltrac® stanchions, Directrac® signage systems, Qtrac® electronic queuing systems, and NeXtrac® in-line merchandising systems – Lavi has helped the world's leading companies effectively guide people in, through, and out of their facilities. More information is available at http://www.lavi.com/.