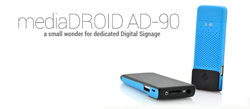 Westlake Village, California (PRWEB) June 12, 2014
MediaSignage, Inc. (http://www.digitalsignage.com), creator of advanced digital signage software and hardware solutions for mainstream customers, is excited to announce the release of its new mediaDROID-90, an Android-based hardware player for enhanced digital signage graphics and scheduled content playback. The company's newly released mediaDROID-90 replaces the previously used mediaDROID-85, one of the smallest players available to the digital signage market.
"We're excited to announce the release of the MD-85, an advanced player for simple digital signage installations," says Sean Levy, CEO. "We've made some tweaks and enhancements to the previous Android-powered player and we feel our current and future customers will notice the difference. It's somewhat of an incremental improvement in the player hardware we provide, but the new players are expected to greatly enhance our offering as a powerful solution for broad-based digital signage projects."
The mediaDROID-90 contains several key advances over its predecessor; namely, the new MD-90 runs cooler than any preceding unit of its size, helping to decrease energy consumption and increase hardware longevity. In addition, the new unit's WiFi module is more than 65% stronger than that of the MD-85.
In addition, the newly released MD-90 comes with the latest Android 4.2 OS and Quad Core Cortex A9 processor preinstalled and preconfigured, meaning users can begin publishing high definition presentations out-of-the-box. Other specifications include:
SignagePlayer: version 4.15
SignageController (Watchdog) pre-loaded
CPU: RK3188 28nm Cortex-A9 Quad core
GPU: Embedded 3D GPU Mali 400
Memory: 8GB Nand Flash
WIFI: 2.4GHZ WIFI 802.11 b/g/n, Bluetooth
Ethernet: Add-on optional
Video connection: HDMI
Audio connection: HDMI Data output
USB: 2 ports
Power supply: USB Power adapter
Size: 142 x 95 x 21mm
"We've worked very hard to develop a simple-to-use, plug-and-play solution for our mainstream clients," says Levy. "This latest release is a reflection of our desire to continuously improve our product to our growing base of loyal digital signage customers," he says. "We're not finished. More surprises are coming soon, so stay tuned."
About MediaSignage, Inc.
Founded in 2008, MediaSignage, Inc. is a provider of free and paid digital signage software and hardware solutions. While rigorously focused on the mainstream market, the company has greatly expanded its offerings to include some of the most widely recognized brands in the Fortune 1000. In doing so, MediaSignage now provides a tiered pricing strategy for open source and enterprise software and hardware for digital sign and digital menu deployments worldwide. For more information on the company and its products and services, please visit http://www.digitalsignage.com/.