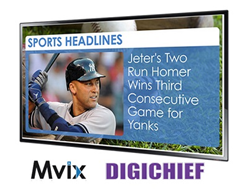 We continue to be impressed with the Mvix platform, its affordability, the intuitive design, and ease of use, said Gene Hamm, Partner at Digichief.
Sterling, VA (PRWEB) June 11, 2014
DIGICHIEF, a provider of fully-licensed content feeds, and MVIX, an industry leader in high definition digital signage solutions, have partnered to distribute a series of highly targeted Media RSS (MRSS) video content channels.
MRSS is a technology platform for syndicating multimedia files such as audio, video, and images via RSS feeds as a new way to acquire content for digital signage networks. Using Digichief's MRSS management system, users can add media to their feed simply by entering a dynamic web feed or URL into their media library and push the content to their digital signage devices. As new, fresh content becomes available, the digital signage player will automatically download this content onto its local storage and begin displaying the current feed on its screen.
"This is an exciting partnership and we are proud to work with Digichief," said A. Jay, Director of Business Relations at Mvix. "Partnering with Digichief provides our clients with access to a versatile repository of fresh and engaging content. It is a reflection of our continued commitment to enhance the quality of solutions available to our clients."
Digichief's MRSS content includes video news and entertainment updates, presenter-led weather forecasts, healthy living tips, health fun facts, relaxation tips, famous failures, Spotting the Signs, Today's Green Minute with Jim Parks, thought of the day, words of wisdom, and many more interesting and engaging feeds.
"We continue to be impressed with the Mvix platform, its affordability, the intuitive design, and ease of use. Integrating our targeted Media RSS content with their platform is a win-win for everyone involved. Mvix clients can easily tap into to our video series and expect to have high-quality, engaging content across their signage network," said Gene Hamm, Partner at Digichief.
As a distribution partner, Mvix clients will have a subscription-based video library of multimedia content choices to keep their network fresh and engaging. Live MRSS content can be included in zones and deployed along with advertorials, news tickers, weather, stocks information, or traffic data. As a key feature of Mvix digital signage systems, content can also be configured for offline playback. Offline playback of MRSS feeds reduces bandwidth consumption and enhances viewer experience.
"Dynamic digital signage content continues to be the focus area of our industry. Our objective is to provide easy to use content and dynamic media to our users," stated A. Jay. "For the past year, Mvix has strategically invested into building content widgets and leveraged partnerships to provide our clients with superior digital signage solutions."
ABOUT DIGICHIEF
Digichief is a leading provider of fully licensed content feeds, images, and video for the digital signage industry. Since 2007, Digichief has served content to both large and small deployments in a number of different fields including financial, healthcare, automotive, and more. For more information, visit http://www.digichief.com.
About Mvix
Mvix, based in Sterling, Virginia, was founded in 2005 and has become one of the industry leaders in the field of cloud-based digital signage software and hardware. With over 10,500 clients in 29 countries, Mvix has established itself as a dominant player in the enterprise-class digital signage market. To learn more about Mvix's digital signage solutions, visit MvixDigitalSignage.com, Brandsignage.com, or SignageCreator.com.