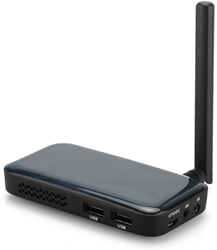 Westlake Village, CA (PRWEB) May 26, 2015
MediaSignage, Inc., provider of digital signage software and hardware solutions announces the release of mediaCLOUD 4.34, including expanded features for digital signage resellers and enterprise users. The latest release not only includes improved existing features and workflow, but add-ons that complement and enhance some of the software's most popular tools.
The latest release includes a new and enhanced search feature for the SignageStudio Pro. Users can now filter and search between scenes, campaigns and folders, giving them quicker and more immediate access to the content that matters. This means creating, editing and publishing campaigns can now be performed much more rapidly--saving time and money. Included with this feature is the new ability to drag and drop specific pieces of content from the search directly into scenes and timelines providing a more streamlined approach to content creation and management on the digital signage server backend.
The firm also recently released the new mediaDROIDx, a powerfully-small digital signage media player. This new player packs an amazing punch that includes improved MRSS caching for auto cycling, horizontal/vertical toggling and 32GB of expanded storage. Additionally, the MediaSignage founding engineers have implemented an improved and optimized WatchDog tool for remote media player health monitoring. This new tool allows users to better view and remotely monitor KitKat-based Android digital signage media players.
MediaSignage has also improved the continuous channel playback for smoother frame-by-frame transitions, additional privileged keys for the role-based security and privileged modules for enterprise users in the SignageStudio Pro. Other optimizations of the music player, YouTube component, playback tools and offline exporter have also been added.
"We'll also be launching an expanded version of our shared scenes soon which allow for increased access to many more pre-made digital signage content templates," says Sean Levy, MediaSignage CEO. "These new, enhanced features are only a few of the exciting releases we have planned in the near future," Levy Says. "We will continue to work to provide the very best in freemium digital signage on the market."
About MediaSignage
Based in Westlake Village, CA and Bellevue, WA MediaSignage, Inc. provides AWS-hosted digital signage from the single screen operator to the Fortune 500 network manager with thousands of displays. The company hosts tens of thousands of digital signage and digital menu board displays in over 130 countries. Since 2008, the company's founders have worked tirelessly to build an easy-to-use enterprise system that could be used for even the smallest deployment.