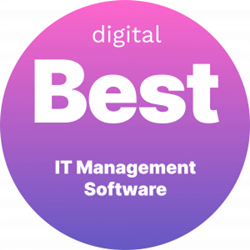 SEATTLE (PRWEB) October 18, 2021
Digital.com, a leading independent review website for small business online tools, products, and services, has announced the best IT management software of 2021. The top systems were selected based on core features, alerts/notifications, and reporting tools.
Experts at Digital.com evaluated programs that support inventory management to keep track of the company's assets and monitor service level agreements (SLAs). Each solution was required to provide tools that detect and alert everyone about any security threats. The study also examined systems that assess how different assets, policies, and procedures are working or not working.
"IT management software helps businesses improve technology practices and secure data," says Josephine Miller, PR Manager of Digital.com. "This go-to guide can help small businesses narrow their search for the best solutions."
Digital.com's research team conducted a 40-hour assessment of over 125 solutions. To access the complete list of best IT management software, please visit https://digital.com/best-it-management-software/.
Best IT Management Software of 2021
ADManager Plus
Atera
Auvik
CENTREL Solutions
ConnectWise Automate
Device42
Electric
Freshservice
ISL Light Remote Desktop
Lansweeper
Miradore Management Suite
NAGIOS
NetSupport Manager
NinjaRMM
Opsgenie
PagerDuty
SolarWinds
SolarWinds Mail Assure
Splashtop
Wrike
ABOUT DIGITAL.COM
Digital.com reviews and compares the best products, services, and software for running or growing a small business website or online shop. The platform collects twitter comments and uses sentiment analysis to score companies and their products. Digital.com was founded in 2015 and formerly known as Review Squirrel. To learn more, visit https://digital.com/.