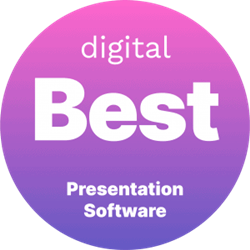 SEATTLE (PRWEB) March 09, 2021
Digital.com, a leading independent review website for small business online tools, products, and services, has announced the best presentation software of 2021. The top systems were selected based on three main criteria.
Each software company was required to offer animations, 3D images, transitions, a library of colorful images, and customizable slides. The study also examined solutions that allow users to access tools and work offline before uploading the final project. Experts at Digital.com recommend platforms with integrations that make it easy to share presentations via a website, social media, or email.
"Templates and integrations are just a few must-have features for an effective presentation software," says Christelle Feniza, Communications Manager of Digital.com. "We've developed this all-inclusive review guide to simplify the buying process and educate users."
Researchers at Digital.com conducted a 40-hour assessment of over 60 software solutions across the web. To access the complete list of best presentation software, please visit https://digital.com/presentation-software/.
Best Presentation Software of 2021

ABOUT DIGITAL.COM
Digital.com reviews and compares the best products, services, and software for running or growing a small business website or online shop. The platform collects twitter comments and uses sentiment analysis to score companies and their products. Digital.com was founded in 2015 and formerly known as Review Squirrel. To learn more, visit https://digital.com/.