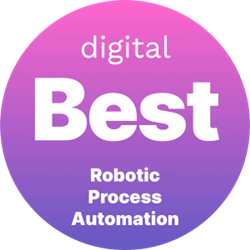 SEATTLE (PRWEB) March 09, 2021
Digital.com, a leading independent review website for small business online tools, products, and services, has announced the best robotic process automation (RPA) software of 2021. The highly rated solutions were evaluated based on core features and customer feedback.
Each software solution was required to offer essential tools like image recognition, code-free development, and a process builder. The study also examined platforms that support attended and unattended automation. The final list prioritized programs with the capacity to integrate seamlessly with CRM (customer relationship management), ERP (enterprise resource planning), and other systems.
"RPA software can help businesses save time and reduce labor costs," says Christelle Feniza, Communications Manager of Digital.com. "Our team of experts reviewed more than 40 solutions and selected the top 10 platforms to narrow the search."
Digital.com's research team conducted a 40-hour assessment of over 40 solutions. To access the complete list of best RPA software, please visit https://digital.com/robotic-process-automation-rpa/.
Best Robotic Process Automation (RPA) Software of 2021

ABOUT DIGITAL.COM
Digital.com reviews and compares the best products, services, and software for running or growing a small business website or online shop. The platform collects twitter comments and uses sentiment analysis to score companies and their products. Digital.com was founded in 2015 and formerly known as Review Squirrel. To learn more, visit https://digital.com/.