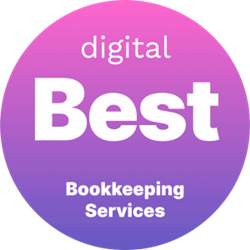 SEATTLE, WA (PRWEB) January 17, 2021
Digital.com, a leading independent review website for small business online tools, products, and services, has announced the best bookkeeping service companies of 2021. The top firms were evaluated based on three key criteria.
Service providers were required to manage all tax-related matters, including tax advice, preparation, filing, and IRS representation in the event of an audit. The study also examined companies that offer payroll and benefits administration services. It was also mandatory that all firms provide personalized services with a dedicated bookkeeper to work directly with each client.
"When choosing a bookkeeping service, it's important to consider firms that can handle a broad range of services like tax returns, account reconciliation, payroll, and benefits administration," says Josephine Miller, PR Manager of Digital.com. "Small businesses can use this guide to find top companies and understand must-have features."
Digital.com's research team conducted a 40-hour assessment of over 60 companies. To access the complete list of best bookkeeping services, please visit https://digital.com/bookkeeping-services/.
Best Bookkeeping Service Companies of 2021
-AcctTwo
-Acuity Financial Experts
-Basis 365 Accounting
-Bean Ninjas
-Bench Accounting
-Flatworld Solutions
-Fourlane
-FreeAgent
-Kashoo
-MAVENTRI
-Maxim Liberty, Inc.
-MichaelSilver & Company
-Padgett Business Services of NC
-Thompson Greenspon
-Xendoo
ABOUT DIGITAL.COM
Digital.com reviews and compares the best products, services, and software for running or growing a small business website or online shop. The platform collects twitter comments and uses sentiment analysis to score companies and their products. Digital.com was founded in 2015 and formerly known as Review Squirrel. To learn more, visit https://digital.com/.