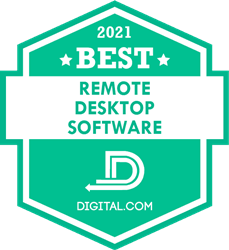 SEATTLE, WA (PRWEB) January 03, 2021
Digital.com, a leading independent review website for small business online tools, products, and services, has announced the best remote desktop software companies of 2021. The top-ranking solutions were selected based on screen sharing features, collaboration tools, and integration capabilities.
The study examined solutions that enable users to share the screen of their devices in real-time. Each software company was required to provide collaboration features, such as live video, voice chat, and drag-and-drop file transfer between computers. The final list prioritized programs that support integration with popular business management tools, like Acronis, Zendesk, Salesforce, and Microsoft Dynamics.
"Remote desktop software is not only used for resolving technical issues, but it's also a great collaboration tool," says Josephine Miller, PR Manager of Digital.com. "Businesses can use this software guide to help narrow the search and learn about key features."
Researchers at Digital.com conducted a 40-hour assessment of over 80 software solutions across the web. To access the complete list of best remote desktop software companies, please visit https://digital.com/remote-desktop-software/.
Best Remote Desktop Software of 2021
-AnyDesk
-ConnectWise Control
-GoToMyPC
-Goverlan Reach
-LogMeIn Pro
-Parallels
-Remote Desktop Manager
-Remote Utilities
-RemotePC
-SolarWinds Dameware Mini Remote Control
-Splashtop Business Access
-TeamViewer Personal
-VNC Connect
-Zoho Assist
ABOUT DIGITAL.COM
Digital.com reviews and compares the best products, services, and software for running or growing a small business website or online shop. The platform collects twitter comments and uses sentiment analysis to score companies and their products. Digital.com was founded in 2015 and formerly known as Review Squirrel. To learn more, visit https://digital.com/.