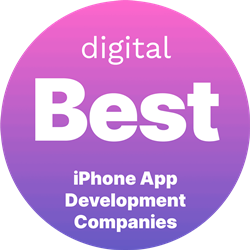 LOS ANGELES (PRWEB) February 09, 2021
Mobile technology studio Dogtown Media has been recognized as one of the top iPhone app development companies of 2021. Published by B2B research analyst Digital.com, the list features the top 15 candidates out of 160 organizations considered for the prestigious honor.
Founded in 2015, Digital.com has quickly become a leading source of information on small business online tools, products, and services. By collecting twitter comments and conducting sentiment analysis to score companies and their products, the firm has gained a reputation for sharp insights into what works best for businesses across a multitude of industries.
Mobile app development is one of the fastest-growing industries in the tech sector. Whether it's to reach new customers, improve user experience, or keep an existing audience engaged, businesses turn to iPhone app developers for a variety of reasons. To identify the best of the best in this field, Digital.com poured over 40 hours of research into analyzing companies with top reputations across the internet.
Each candidate was required to provide an extensive range of services such as mobile app development, marketing, and UI/UX design. Candidates were also evaluated on their ability to meet the needs of both large and small businesses. Lastly, Digital.com also dug into the versatility of each development firm — more specifically, how well could they help companies across an array of industries. Dogtown Media's successful track record in delivering dynamic iPhone apps that leveraged machine learning, fintech, and the Internet of Things (IoT) instantly made the firm a top contender.
"Making your service or software accessible to iPhone users requires an efficient and expert iPhone app developer," says Christelle Feniza, Communications Manager of Digital.com. "This review guide was designed to help small business owners find top firms that can tailor services to meet their industry and needs."
Besides being recognized as one of the best iPhone app developers of 2021, Dogtown Media was recently featured as a top mobile app developer in Los Angeles by Digital.com. These awards kick off another promising year for the innovative mobile app development firm, which was also honored to make the Clutch 1000 List of Best B2B Service Providers for the third year in a row.
Based in Venice Beach, California, Dogtown Media is a mobile technology studio that leverages disruptive design strategies and dynamic development to deliver industry-leading apps. To date, the company has created over 250 mobile apps in industries including Healthcare app development, IoT, and Artificial Intelligence.