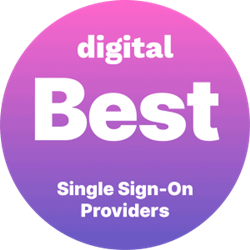 SEATTLE (PRWEB) March 01, 2021
Digital.com, a leading independent review website for small business online tools, products, and services, has announced the best single sign-on (SSO) providers of 2021. The top-ranking solutions were selected based on core features and integration capabilities.
All software companies were required to provide multi factor authentication (MFA), credential management, and self-service portals that enable users to manage their own accounts and password lists. The study examined integrations with productivity and networking tools, such as Dropbox, G Suite, and Office 365. Additional requirements include detailed reports that show valuable log-in data with devices used, sign-on location, and session times.
"With SSO providers, users can access all of their apps and accounts with just one user ID and password," says Josephine Miller, PR Manager of Digital.com. "Our team developed this software guide to narrow the search and identify key features."
Researchers at Digital.com conducted a 40-hour assessment of over 30 solutions across the web. To access the complete list of best single sign-on providers, please visit https://digital.com/single-sign-on-provider/.
Best Single Sign-On Providers of 2021

ABOUT DIGITAL.COM
Digital.com reviews and compares the best products, services, and software for running or growing a small business website or online shop. The platform collects twitter comments and uses sentiment analysis to score companies and their products. Digital.com was founded in 2015 and formerly known as Review Squirrel. To learn more, visit https://digital.com/.