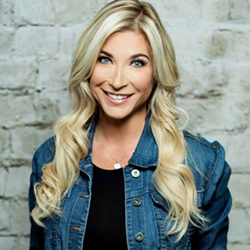 "Pamela has a background that is fascinating and stories that you can not hear from anyone else. Connecting with the audience is very easy for Pam with her breadth of knowledge and good humor."
MEMPHIS, Tenn. (PRWEB) June 25, 2020
Executive Speakers Bureau is proud to announce its exclusive representation of trust strategist and body language expert, Pamela Barnum, for all keynote speaking engagements.
Pamela Barnum is a former undercover police officer and federal prosecutor who helps organizations increase trust and improve negotiation outcomes using insider nonverbal communication skills. As a body language expert and trust strategist, Pamela delivers techniques once thought of as a "secret second language" that participants can begin using immediately.
"We are thrilled to have Pam be a part of our ESB family," says Stephen Kirkpatrick, Director of ESB Managed Speaker Division.
"She has a background that is fascinating and stories that you can not hear from anyone else. Connecting with the audience is very easy for Pam with her breadth of knowledge and good humor. We are so excited to be a part of Pam's future."
When you take decades of experience which includes a unique background of working deep undercover in the drug enforcement section, followed by a rewarding legal career, you get real-world strategies that help participants crack the code on deception and increase trust using proven field-tested techniques.
Pam's expertise has also been extremely useful during these unprecedented times when companies and employees are working remotely and connecting on virtual platforms. Pam leads keynotes and trainings on effective communication techniques you can implement that will display trustworthiness, decode the nonverbal signals you see on your screen, and detect deception cues you may have missed.
For more information on digital trust speaker Pamela Barnum, contact Executive Speakers Bureau at (901) 754-9404.
ABOUT EXECUTIVE SPEAKERS BUREAU
Executive Speakers Bureau is proud to exclusively represent Pamela Barnum for all keynote speaking engagements. We are a full-service speakers bureau, taking pride in our ability to provide world-class service as well as our ability to deliver today's foremost professional speakers and expert trainers to clients around the world. It is our commitment to provide our clients with unparalleled service, access to hundreds of motivational speakers worldwide and individualized personal attention. For more information, visit http://www.executivespeakers.com or call us at (901) 754-9404.