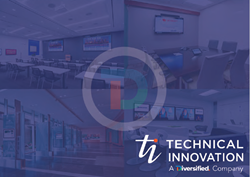 Technical Innovation continues to offer our clients the unique opportunity to see firsthand, in an interactive environment, new technologies designed for collaborative spaces.
Norcross, GA (PRWEB) May 16, 2016
The Nashville office of Technical Innovation, a Diversified Company, a leading systems integration firm, is slated to be the next stop of the 2016 "Digital Workplace Tour." An annual event for the region, the show offers attendees interactive sessions with collaborative technologies, face-to-face access to industry experts and invaluable information on tools and services that will give them an edge in today's hyper-competitive workplace. David Berndt, Executive Regional Director states, "Technical Innovation continues to offer our clients the unique opportunity to see firsthand, in an interactive environment, new technologies designed for collaborative spaces. We look forward to welcoming the Nashville business, government and education market to experience new technologies and have the opportunity to talk directly with leading manufacturers."
In addition to the hands-on exhibits, Chris Johnson, CTO will be presenting "Digital Technology Intersections, Elements of Leading Integration Design in 2016-2017." In this seminar, Johnson discusses the importance of a well-defined Unified Communications strategy, from network infrastructure to the various departments, people and devices involved. Attendees are encouraged to bring their IT, HR, Finance, Operations and Sales organizations to this interactive session.
Manufacturers represented include Chief, Cisco, Crestron, Da-Lite, Fivestone Studios, Haivision, Middle Atlantic Products, Leyard, Mersive, Planar, Prysm, Shure, Sony and Spectrum Industries, along with representatives from TI and Diversified's Media Systems, Cloud Solutions (TI's Virtual Meeting Room Solution TIVMRplus) and Structured Cabling groups. In addition, experts from leading vendors will be displaying real solutions in interactive touchscreens, video walls, screen technology, laser projection, PTZ Cameras, 4K Displays, content sharing and management, wired and wireless architectures, remote monitoring, mobile voice and video solutions, Digital Signage, Corporate Communications, IPTV and related managed services, custom office furniture, mounting solutions and structured cabling infrastructures.
Attendees are encouraged to register at http://bit.ly/1Sd60Af and bring their mobile devices. Event hours are 10-:00AM – 3:00PM and include a light lunch and refreshments. Technical Innovation, a Diversified Company, is located at 1449 Donelson Pike, Nashville, TN 37217. For additional information contact Debbie Johnson at 615.515.3415, djohnson(at)technical-innovation(dot)com.
About Technical Innovation, a Diversified Company
Technical Innovation is a design/build systems integrator specializing in unified communication technologies, mission critical facilities, presentation and visualization environments and broadcast solutions. Serving corporations, state and federal government agencies, universities, professional organizations, and Houses of Worship, TI focuses on designing solutions specific to their client's needs and providing an exceptional customer experience. This includes best-of-class, video-centric collaboration solutions, design-build system integration, managed services and ongoing customer support. Companies such as MetLife, United Airlines, Turner, and The Home Depot have counted on them for their system integration needs. In February 2016, Technical Innovation's expertise and geographic reach expanded as it merged with Diversified, a leading full service systems and media technology integration company based in New Jersey. Together, the new team continues to deliver the world class service customers have become accustomed to as they have join forces to become the industry's leading design and systems integration provider.
For more information about Technical Innovation, a Diversified Company, visit http://www.Technical-Innovation.com