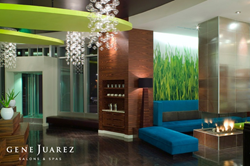 We use Digital Alchemy's personalized email Service Reminders to confirm appointments and its custom eSurvey client response messages to ask for feedback about their experience.
(PRWEB) November 10, 2015
Gene Juarez Salons & Spas operates 10 locations in the Seattle area. The company's services and staff have earned multiple awards including InStyle magazine's "Top Spas in the United States" and "Salon of the Year" by Modern Salon magazine. One of the secrets that keep Gene Juarez on top is the quality of its personalized service. And this starts with the way it communicates with clients.
Digital Alchemy communication is an important part of Gene Juarez Salons & Spas' business
"Our clients come to us for special treatment for their personal appearance and health. We treat each one with individual care. This begins with the way we communicate with them," said Sheri Bower, director of digital marketing for Gene Juarez Salons & Spas. "We use Digital Alchemy's personalized email Service Reminders to confirm appointments and its custom eSurvey client response messages to ask for feedback about their experience. Our partnership with Digital Alchemy is well received by our clients and very successful for the Gene Juarez business."
Digital Alchemy is the leading provider of spa and hospitality Customer Relationship Management, guest communications, and email marketing for spas and hotels. The company drives revenue through guest communication solutions that are specifically tailored and personalized for each client. Digital Alchemy's unique email messaging and campaigns are based on an in-depth understanding of each customer's needs and guarantee 400% ROI on every email campaign. Click here for information on Digital Alchemy.
One-click confirmations simplify client appointment response
"Our email appointment reminders are customized for each client's visit," Bower said. The email Service Reminders Digital Alchemy created for Gene Juarez includes a one-click confirmation button that clients use to easily reply with a verification they will be at their appointment. "The 'confirmation button' makes it easy for clients to respond, which increases business and ensures our locations are prepared."
In today's mobile world, email Confirmations, Reminders, appreciation notes, and eSurveys are valued by Gene Juarez Salons & Spas clientele. "The majority of our thousands of clients are 'mobile natives' that like the convenience of the automated reminders and eSurveys," Bower said. "Our email reminders help drive business because they remind clients when it is time for a regular hair appointment or treatment. If they do not respond, the system sends another reminder in a few weeks. Digital Alchemy's automated processes are important because of our massive client base." Gene Juarez centralizes marketing processes for its 10 locations in its corporate office in Seattle.
"We rely on custom eSurveys to follow up after each client visit," Bower said. "We send clients an eSurvey after their appointment to ask about their booking experience, our facility, and our staff's professionalism. We respond immediately to negative comments and can usually address the problem quickly. This helps us keep their business and do a better job." Bower noted that she is looking into an automated 'Spa Intake Form' Gene Juarez could send to new clients. "Digital Alchemy is continuously enhancing their service and innovating creative new concepts for Gene Juarez. We have used Digital Alchemy's service for a year and we love their processes and team. They help us build stronger relationships and smoothly move into a new era of personal communication with our clients."
About Gene Juarez Salons & Spas
Founded in 1971, Gene Juarez Salons & Spas is the Pacific Northwest's leading salon and spa – operating 10 salon and spa locations and two cosmetology schools. Voted "Best Hair Salon in Seattle" by Allure readers, "Seattle's Best Hair Salon" by Seattle magazine readers, "Best Day Spa, Hair Color and Hair Salon" by KING 5 viewers, Modern Salon magazine's "Salon of the Year," and InStyle magazine's "Top Spas in the United States." Learn more at http://www.genejuarez.com.
About Digital Alchemy
Digital Alchemy, based in Ft. Worth, Texas, is the leader in Customer Relationship Management (CRM) and email marketing solutions that increase revenue. Clients include boutique hotels, Four-and Five-Star properties, branded hotels, and spas. Digital Alchemy guarantees its data-centric marketing campaigns will deliver at least 400% ROI.
Founded in 1999, Digital Alchemy pioneered virtually every email-based concept used in the hospitality industry. Its email templates are mobile optimized and the company offers the industry's first Facebook-email integration to attract guests. Digital Alchemy provides dynamic 2-way mobile messaging on one integrated platform and creates clients' email designs in-house to free staff for other activities. To verify results for clients the company delivers accurate real-time campaign revenue reporting. Digital Alchemy continuously innovates new solutions that include integrated spa CRM functionality. Click here for more information.