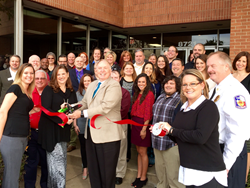 Our new offices have more than 12,000 square feet to accommodate our staff growth to serve our rapidly growing family of clients.
(PRWEB) January 14, 2016
Digital Alchemy started 2016 with a move to new offices with double the space to accommodate its expanded staff and growing client list. Digital Alchemy is the leading provider of hospitality Customer Relationship Management, guest communications and email marketing for hotels. The company's new Dallas Metroplex office is home to Digital Alchemy's support, development, sales and executive teams.
Passion drives company and client growth
"Passion is the driving force behind Digital Alchemy's growth," said Shannon Bedard, Digital Alchemy senior vice president and founding partner. "The 'Why' of our company and the focus of our business is Making Hospitality Personal. Each department has its own mission statement that empowers the team when they walk in the door. Our clients feel this. It is why they selected Digital Alchemy as their CRM and marketing partner."
Don Hay, founder and CEO, noted that Digital Alchemy increased its client base by more than 30 percent in the past year. "Our new offices have more than 12,000 square feet to accommodate our staff growth to serve our rapidly growing family of clients. Throughout 2016 we will continue to introduce new solutions and services, like our email Web Receipt for paperless folios and SocialREV that increase revenue and profitability for our clients."
Digital Alchemy drives revenue with CRM, email marketing and guest communication solutions that are specifically tailored and personalized per guest, per visit for each hospitality and spa client. An in-depth understanding of each customer's needs, via one-on-one ongoing client communication, ensures a 400% ROI on every email campaign. Click here for information on Digital Alchemy.
About Digital Alchemy
Digital Alchemy, based in North Richland Hills, Texas, is the leader in Customer Relationship Management (CRM) and email marketing solutions that increase revenue. Clients include boutique hotels, Four-and Five-Star properties, branded hotels, and spas. Digital Alchemy guarantees its data-centric marketing campaigns will deliver at least 400% ROI.
Founded in 1999, Digital Alchemy pioneered virtually every email-based concept used in the hospitality industry. Its email templates are mobile optimized and the company offers the industry's first Facebook-email integration to attract guests. Digital Alchemy provides dynamic 2-way mobile messaging on one integrated platform and creates clients' email designs in-house to free staff for other activities. To verify results for clients the company delivers accurate real-time campaign revenue reporting. Digital Alchemy continuously innovates new solutions that include integrated spa CRM functionality. Click here for more information.