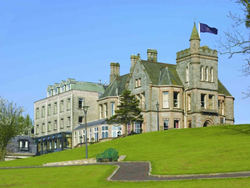 The system creates personalized hotel email marketing lists that show guests we pay attention to their needs.
(PRWEB) February 23, 2016
A gracious, personalized stay is the hallmark of Hastings Hotels, the largest independent hotel group in Northern Ireland. The Hastings family founded the chain and now operates six luxurious properties across the province. Guests can choose from deluxe accommodations that include a historic palace and a meticulously maintained seaside Victorian hotel adjacent to one of the top ten golf courses in the world.
Personalized eCampaigns uphold tradition of service
Hastings takes special care to communicate with each guest, whether it be a sitting US president, a business traveler or a family on vacation. The company chose Digital Alchemy's advanced hotel email marketing system to preserve this long-standing tradition while adding a digital twist.
"Digital Alchemy interfaces directly with our Visual One property management system (PMS)," explains Hannah Corbett, Hastings head of digital marketing for hotels." This enables Digital Alchemy to mine our guest history database for relevant information, such as seasonal stay and amenity preferences. The system creates personalized hotel email marketing lists that show guests we pay attention to their needs." The result? Digital campaigns that generate "impressive revenue."
Digital Alchemy supports the 'customer journey,' from confirmation to personal thank-you notes
Hastings uses Digital Alchemy solutions for all email correspondence. Digital Alchemy provides the email templates, and Hastings' marketing staff customizes the look and content for each campaign and communication. "We call it the 'customer journey,'" says Corbett, "and Digital Alchemy supports every step":

Automatic reservation confirmation generated immediately after a website booking
Automatic welcome message generated 10 days before a stay that includes amenity marketing based on customer preference. "This has been a very effective way to increase incremental revenue," says Corbett.
A VIP concierge system that allows Hastings Hotels staff to communicate with guests during their stay to fine-tune services and inform customers about value-added amenities and local activities
Automatic thank-you note generated after each stay
Guests automatically become Hastings eClub members when Digital Alchemy captures their email from the hotel website. Digital Alchemy also exports guest contact information from numerous online travel agencies so Hastings can conduct direct reservation marketing.
Digital Alchemy's professional service 'makes sure we have all our work done right'
"Digital Alchemy's professional team works closely with us to make sure we apply their hotel email marketing system effectively," says Corbett. "Their team tracks revenue and provides analysis for each hotel's campaigns so we can measure our effectiveness. Digital Alchemy also provides its hotel marketing performance data for the total chain for corporate analysis. We have hugely successful hotel email marketing campaigns thanks to these customized email promotions."
"Digital Alchemy's staff is always at hand to meet our needs," says Corbett, with prompt communication between Digital Alchemy's North American location and Hastings' Belfast corporate headquarters. "Their service that supports our marketing is invaluable. We call when a need a pop-up campaign—such as an automated birthday email message for our customers—and they help us create it. We can always call if we have questions about a template or campaign. They make sure we have all our work done right."
About Hastings Hotels
Hastings Hotels is the largest independent hotel group in Northern Ireland with six luxurious properties across the province. The family owned company was established in the late 1960's and its founder, Dr. Billy Hastings, is still at the helm as Chairman. Hastings properties offer guests an impressive choice of venues, from city based hotels with easy access to all major air, sea and road links, to those that are located amidst breathtaking scenery and world famous golf courses, with a host of leisure and sporting pursuits for all the family – there is something for everyone. Discover the true meaning of Irish hospitality at Hastings Hotels. Luxury accommodation, gourmet dining and idyllic surroundings provide the perfect backdrop for a well-earned break.
About Digital Alchemy
Digital Alchemy, based in North Richland Hills, Texas, is the leader in Customer Relationship Management (CRM) and email marketing solutions that increase revenue. Clients include boutique hotels, Four-and Five-Star properties, branded hotels, and spas. Digital Alchemy guarantees its data-centric marketing campaigns will deliver at least 400% ROI.
Founded in 1999, Digital Alchemy pioneered virtually every email-based concept used in the hospitality industry. Its email templates are mobile optimized and the company offers the industry's first Facebook-email integration to attract guests. Digital Alchemy provides dynamic 2-way mobile messaging on one integrated platform and creates clients' email designs in-house to free staff for other activities. To verify results for clients the company delivers accurate real-time campaign revenue reporting. Digital Alchemy continuously innovates new solutions that include integrated spa CRM functionality. Click here for more information.