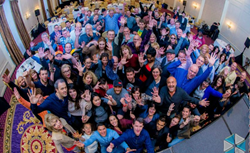 "Ken Courtright is an expert in the creation of online presence for Business Growth. Digital Footprint is a Must Attend Event in 2016." Forbes Magazine
Philadelphia, PA (PRWEB) March 31, 2016
DigitalFootprint attendees will learn how to increase revenue, generate leads, diversify revenue sources, establish authoritative online voices, raise price points, optimize brands and outpace the competition
Event speakers include, Jeff Hoffman, co-founder of Priceline.com, uBid & ColorJar; Brian Smith, founder of Ugg Boots; Karen Leland, best-selling author, columnist and international branding expert; Cheryl Snapp Conner, Forbes contributor and creator of Content University; and Ross Halleck, luxury brand advisor, founder of Halleck Inc.
Digital Footprint 2016 East, a semi-annual insiders-only event for investors, content creators, brand founders and expert branding consultants is welcomed to Philadelphia's Sheraton Downtown Hotel by the Greater Philadelphia Chamber of Commerce April 8-10.
"After 3-days of inspiration and applicable education, you will be empowered to take your business to an entirely new level. Our roster of speakers are both expert in their fields and able to show you precisely what your competitors are doing and how you can do it better!" said Courtright, CEO of The Income Store.
The event has been expanded to accommodate demand, but is expected to sell-out a second time based upon early feedback from conference organizers. For last minute access to Digital Footprint , use coupon code: MGZ500 for a great discount.
"Each attendee will receive the 'NextStep' App loaded on an iPad Mini when entering the seminar. The attendee will place their domain name into the tool and within the first 5 minutes of the event will diagnose all problems with a brand's domain(s) and provide the recommended solutions. Next the app will identify the competitive landscape by keyword, identify the keyword's most-viewed, social media content and then prescribe a viral, content-creation strategy. From minute six onward, seminar attendees will have the opportunity to work with the IncomeStore's on-site staff to fix problems as well as design solutions for the attendees' viral, social media strategy. At the event's conclusion each attendee will leave the event with the toolset, a working strategy and content recommendations that will propel them past the competition," said Courtright.
The Spring 2016 event was previously based in New York City but was attracted to Philadelphia by thought-leaders within the Greater Philadelphia Chamber of Commerce who wanted to capitalize on the convention's high-profile speaker roster, technology focus and benefit to solopreneurs as well as major brands.
"IncomeStore has helped hundreds of individuals, business owners and private equity groups generate 2nd, 3rd and even dozens of additional revenue streams for their home or business," said Courtright.
Prospective clients can watch current videos at the IncomeStore and TodaysGrowthConsultant.com web sites for more information.
Contact:
Maurice Gavin, Presenter
Mauricegavin(at)exitstrategic(dot)com
http://digitalfootprint.net
612-202-8049
Patrick Tuttle
VidzMedia
vidzmediainfo(at)gmail(dot)com
443-807-8383