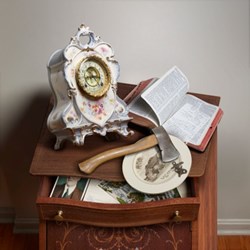 You will love Linda Mueller's impossible worlds whether or not you know her intentions and process. They are delightful and bizarre. - Sarah Hermes Griesbach
St. Louis, MO (PRWEB) November 09, 2013
Linda Mueller, a digital designer and producer at Digital Intersection was recognized today by the St. Louis art world for her work of genius displayed as part of the "Altered Reality" exhibit at PHD Gallery at 2300 Cherokee St in St. Louis' near south side, now through November 30th.
Sarah Hermes Griesbach, a writer for the St. Louis Beacon had this to say about Ms. Mueller's work: "You will love Linda Mueller's impossible worlds whether or not you know her intentions and process. They are delightful and bizarre. Mueller skillfully combines multiple images to create still life constructions through magic called Photoshop. Mueller's surreal scenes are not fragmented like collage. Her photo layers merge seamlessly, as she deconstructs surfaces and rebuilds them to her fancy."
Maurice Parisien, a principal with Digital Intersection, the agency that employs Linda Mueller shares his view of the creative spirit and talent of Ms. Mueller: "Linda has been a great contributor to the creative process here at Digital Intersection. She has been instrumental in creating digital communications that achieve the marketing communications objectives of our clients, both in the world of community banks and other large and midsize clients. Beyond her talent, Linda is a delight to work with and helps to make our workplace fun and enjoyable. We are proud of Linda's accomplishments and both support and encourage her creative exploits in digital art."
About Digital Intersection
Digital Intersection is in the business of delivering highly effective, customer-centric marketing strategies and tactics that integrate both online and offline marketing communications within the framework of right4(sm) which translates to reaching the "right" audience with the "right" messages via the "right" combination of online and offline channels at the "right" time to effectively achieve the marketing goals and objectives of its clients. For more information about Digital Intersection visit http://www.digitalintersection.com, or follow us on Twitter @digitalintersec and @mauriceparisien.