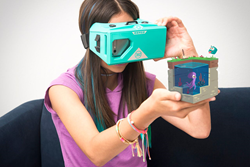 "The Digital Kids Summit is validation that the world of connected play is finally here!" – Matt MacBeth, Co-Founder and CEO of pi lab / Edwin the Duck and Startup Pitch Coach
AUSTIN, TEXAS (PRWEB) September 14, 2017
Digital Kids Media hosts the Digital Kids Summit, a two-day exclusive event with more than 50+of the most influential trailblazers shaping the future of how kids play, learn and interact with the world around them through digital media, connected play, education and technology.
Featured speakers from digital content and experiential powerhouses include Mattel, BBC, PBS Kids, Amazon, pocket.watch, NPR's Tinkercast, Tate Kids, and GoldieBlox.
Chris M. Williams, Founder and CEO of pocket.watch presents the Keynote: Meeting Kids in the White Space; Pushing Beyond the Limits, where he will share how watching his own children's digital consumption habits has impacted his perspective on the future of kids' digital media.
Gary Clay will share how Amazon Education pulled together a team of game developers and children's book editors to determine how to foster reading confidence in reluctant readers in his talk Game Developers designing Kids Apps – Lessons learned from the Amazon Education Giant.
Content is King Regardless of the Platform will discuss business strategies, the role of gender in content and creating meaningful experiences for kids and parents through podcasts, social media and emerging technologies such as VR, AR, IoT and more.
Additionally, Juniper forecasts that 224 million smart toys will be shipped worldwide in 2017; with that kind of growth Digital Kids Media is highlighting the future of connected play, ranging from robotics, IoT, connectivity through sound to every reality possible, VR, AR, XR and more.
Speakers include Sphero, Chirp, Merge, Dynepic's iOKids, Collabsco, Wonder Workshop, Primo Toys, TagHive, Wantu, Kidloom and Seedling.
Sphero, Wonder Workshop, b8ta, Primo Toys and Pflugerville ISD will discuss Engaging Consumers in the Classroom and Beyond while Chirp's Marco Carvalho, EVP Americas and Chief Strategy Officer will discuss Chirp's data-over-sound technology in his talk, Connectivity Amplified.
"Our business is growing rapidly in the US as customers see how our data-over-sound technology is able to bring ideas to life in many different applications, from toys such as the Hijinx toys that sing along with entertainment shows such as Netflix's Beat Bugs range, to using sound to transform a gaming experience with Activision's Skylanders. I look forward to sharing more about how Chirp amplifies connectivity to Digital Kids Summit's audience in the entertainment and smart product technology space." – Marco Carvalho.
The International Delegation will provide perspective from startups from around the world while the Sharks & Angels Pitch Panel addresses how to pitch your startup when you have one chance to share your idea. "The Digital Kids Summit is validation that the world of connected play is finally here - the Sharks and Angels Pitch Panel pulls together four companies across three continents to pitch their ideas where one or more participants will walk away with a check made to their startup." – Matt MacBeth, Co-Founder and CEO of pi lab / Edwin the Duck and Startup Pitch Coach
Representing Austin's home-grown talent include, Austin favorites RoosterTeeth, Texas Film Commission, MediaTech Ventures, PenPal Schools, Pitch-A-Kid and many other talented companies. KEEPING AUSTIN WEIRD: How Austin animation breaks the rules, defies the norms, and finds success discusses how Austin is in the thick of an animation renaissance.
Global and local innovators share their perspective on participating in the Digital Kids Summit:
"It is an honor to be among some of the most outstanding content powerhouses and emerging technology leaders, transforming the future of entertainment, learning and play. We look forward to discussing content creation, connected play and emerging technologies such as IoT, virtual reality, augmented reality and more. The Digital Kids Summit is an ideal event to learn, connect and share ideas with people in the industry - we are thrilled to see it held in Austin this year." – Valerie Vacante, Founder of Collabsco
"Merge is very excited about attending Digital Kids Summit in Austin, just up the road from us. Merge is building the toys of the future using virtual and augmented reality, two technologies that are profoundly impacting the way kids play, learn, and experience the world around them. Our work is on the bleeding edge of these technologies and we're happy to share our insights and experiences with others in attendance!" – Jeremy Kenisky VP, Creative at Merge
"We are thrilled to be attending and speaking on the complexities of launching a digital kid's product while meeting strict child privacy regulations like COPPA and the GDPR. The iOKids platform allows brands to leverage the verifiable parental consent, user profiles, and parent-approved friends lists to create cutting edge, personalized and social play experiences that kids today demand." – Krissa Watry, Co-Founder and CEO of Dynepic
This is the first year that Digital Kids Media will be hosting the event in Austin after being in San Francisco for the past four years. "With Austin's being named as the #1 Best City in the World for Tech, creative, and entrepreneurial roots and future focused growth, Austin is an ideal location to gather the most brilliant innovators and future shapers across entertainment, education, technology and play," stated Stacey Sherman, CEO of Digital Kids Media.
The Digital Kids Summit will be taking place at J.J. Pickle Research Campus 10100 Burnet Road, Bldg 137 Austin, TX 78758 on September 26-27, 2017.
Visit Digital Kids Summit to learn more about the event and register.
###
About Digital Kids Media http://digitalkidsmedia.com/
Digital Kids Media specializes in events that connect a global community of knowledge brokers and innovators who are forwarding the future of entertainment, technology, and education. Our events, Digital Kids Summit and Digital Kids Conference are designed to inspire and advance business in the ever-changing digitally connected world for kids and their families.
Contact
Stacey Elliott Sherman
Chief Executive Officer, Digital Kids Media
(512) 633-7539
stacey(at)digitalkidsmedia.com
Valerie Vacante
Founder, Collabsco
(512) 971-1728
val(at)collabsco.com