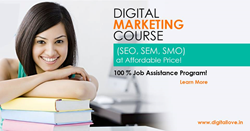 Bangalore, Karnataka, India (PRWEB) October 14, 2015
With the rapid shift of advertising from traditional media to online platforms, it is becoming increasingly important for marketing professionals to be well-versed in digital marketing fundamentals.
Industry is ready with requisite skill-sets to take on exciting digital marketing roles, Digital Love, India 's learning Digital Marketing Service & Training company based in Bangalore, India introduces 'Digital Marketing Certification Program', a comprehensive digital marketing course created by highly experienced digital marketing professionals & marketing experts.
Our industry specific courses are for all those students aiming to enter the workforce straight from this training.
According to industry data, digital marketing managers are paid 82% more than traditional marketing managers. The digital age has taken over traditional marketing, making online marketing more prevalent for some of the biggest Fortune 500 brands and even small-medium enterprises. In order to create future talent in this domain where the online advertising spend is expected to be 278 billion USD by 2019, Digital Love has developed this course to ensure professionals are well equipped and certified to become a complete digital marketer.
Catering to fresh graduates, traditional sales, marketing and advertising professionals at all levels and entrepreneurs who have realized the potential of the medium, the course helps learners to be ready for the industry and be part of a high quality digital marketing team, or execute their own digital marketing campaigns. It will also prepare them for Google certification exams like Google Advertising professional certification for Google Search Networks, Display Networks , Google Analytics, Google AdWords, Facebook marketing and YouTube marketing.
On completion of the training, learners will be equipped with the knowledge and skill-sets in SEO, Social Media Marketing, PPC, Conversion Optimization, Web Analytics, Content Marketing, Mobile Marketing, Email Marketing, etc. They will be able to and execute tools like Google Analytics, Google AdWords, Facebook Marketing, YouTube Marketing, etc.
To major domains of digital marketing and acquire hands-on skills to apply in daily business scenarios, the All-in-one Advanced Online Marketing Suite training is recommended as a next step after completing the DMPC course. Up to date and comprehensive, eight advanced short courses on SEO, Web Analytics, Social Media, Mobile Marketing Conversion Optimization and Content Marketing are designed to train an individual become a digital marketing specialist.
About Digital Love
Digital Love is India's best digital marketing service & training company based in Bangalore, India serves SMEs with affordable online marketing solutions