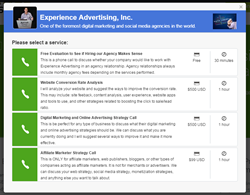 We are very impressed with the functionality vCita has already provided our agency and our clients.
Fort Lauderdale, FL (PRWEB) August 14, 2015
Experience Advertising, Inc., a leading digital marketing and social media agency, has launched the vCita platform to facilitate their client scheduling, online payment processing, client management, and document sharing. CEO and founder of Experience Advertising Evan Weber stated, "We are very impressed with the functionality vCita has already provided our agency and our clients. We find it to be an exceptional solution for proactively engaging with clients and providing excellent customer service. It has become an indispensable facet of our agency experience."
About vCita: Founded in 2010, vCita has become a leader in web engagement software specifically designed for all types of service companies. The vCita platform redefines business by empowering online visitors to engage, driving more opportunities from the web, mobile, email and social. The vCita Web Engagement Platform includes messaging, self-service scheduling, and online payments via any device, anytime, from anywhere. vCita increases the effectiveness of any web presence, strengthens customer relationships and provides a personalized experience that clients have come to expect.
About Experience Advertising, Inc: Founded in 2007, Experience Advertising has become a leading digital marketing, social media, and affiliate marketing agency for companies of all sizes. Led by ecommerce industry veteran Evan Weber, Experience Advertising provides comprehensive digital advertising and social media solutions for their clients. They provide cutting-edge online advertising solutions including:

Affiliate Program Management
Social Media Management
Facebook Advertising Management
Twitter Advertising Management
Website Conversion Rate Optimization
Email Marketing Management
Website Design and Development
Digital Marketing Strategy Consulting
Social Media Strategy Consulting
Custom Referral Programs
Ecommerce Marketing Management
Shopping Feed Syndication
To learn more about marketing your company through digital advertising and social media, visit Experience Advertising today for a free consultation.