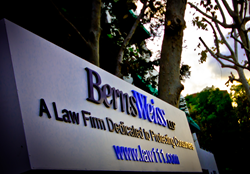 Digital Money will be game-changing for consumers
Woodland Hills, CA (PRWEB) July 02, 2014
Berns Weiss LLP, a nationally recognized class-action law firm, announces the formation of the Digital Money Practice Group. The law firm will assist the digital money community in developing beneficial products for use by consumers in financial transactions, and the Digital Money Practice Group will work with consumer protection organizations and other entities to create necessary consumer protection safeguards.
"After having seen the destruction the current financial system has caused on good hard working Americans, I firmly believe that Digital Money is going to be the manner in which we stop allowing our interests to come second to that of the financial industry," says Jeffrey Berns, Managing Partner of Berns Weiss, "digital money is something that Progressives, Democrats, Independents, Republicans and Conservatives can all support. Digital money is more efficient than the current system, because it eliminates barriers and reduces waste, allowing vendors both small and large to save 2-3% a year in transaction costs, which means they can lower the costs of the products we purchase, give their employees a raise, or provide additional returns to their stock holders."
To view the rest of the interview with the Partner, Jeffrey Berns, click here.
Jeffrey Berns and Lee Weiss are both well-known for pursuing claims against financial institutions on behalf of consumers, having recovered over two billion dollars in relief on behalf of consumers throughout their professional careers. "While working to ensure that regulators police entities that take advantage of consumers using digital money, the Digital Money Practice Group at Berns Weiss is also prepared to file class-action lawsuits against entities who are allegedly mishandling consumer's digital money," said partner Lee Weiss.
About Berns Weiss, LLP
Berns Weiss, led by Partners Jeffrey Berns and Lee Weiss, is a leading class action law firm with offices in New York and Los Angeles. The company employs state-of-the-art technology to investigate, prosecute and bring cases to a conclusion. The cases we litigate are generally taken on a contingency basis, at no cost to our clients, with our fees tied to the benefits obtained for the class.
Contact:
For more information, contact us via e-mail at dmpg(at)law111(dot)com, or via telephone at (818) 961-2000
Digital Money Practice Group