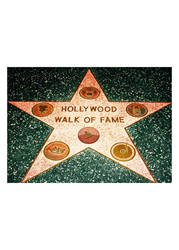 Adding a streaming star or Play button is the next essential step for the Hollywood Walk of Fame and 2016 is the time to do it.- Will Keenan (President, Streamup)
Hollywood, California (PRWEB) January 01, 2016
Will Keenan, President of the world's fastest growing live streaming platform, Streamup, is calling upon the Hollywood Chamber of Commerce and the internationally-recognized iconic "Hollywood Walk of Fame" (Los Angeles Historic-Cultural Monument #194) by launching an online petition to add a new kind of star in 2016 to the annual landmark's lineup to compliment its Film, TV, Radio and Theatre star symbols in the form of a "digital 'Play' button". Keenan, former President of Endemol Beyond and V.P. at Maker Studios, created this new year online campaign petition at Change.org with the intention of gathering signatures throughout 2016 in support of adding a digital or streaming star to the historic Hollywood Walk Of Fame. Keenan says, "It's time. There are wax figures of streaming stars at Madame Tussaud's, top industry trades say digital stars have, for awhile now, been more influential and more popular than 'traditional' celebrities, and these incredibly successful talents have many millions of fans and star in the most-viewed content around the world. By recognizing streaming stars' massive popularity on platforms like YouTube, Vine, Periscope, YouNow and Streamup, and their many creative successes with a star on the Hollywood Walk of Fame, our entertainment industry as a whole will truly be updated, not just in theory but in practice. Adding a streaming star or Play button to the Hollywood Walk of Fame, especially now that digital has already been recognized by The Academy of Television Arts and Sciences, The Academy of Motion Picture Arts and Sciences and the Golden Globes, makes it the Walk's essential next step and 2016 is now the time to do it."
Keenan cites the outpouring of countless "most popular/most influential celebrity" industry trade stories in which the top spots continue to be dominated by digital influencers, including Variety's "Survey: YouTube Stars More Popular Than Mainstream Celebs Among U.S. Teens", Variety's "Digital Star Popularity Grows Versus Mainstream Celebrities" (where 12 of the top 20 were all digital or streaming star talent) and Hollywood Reporter's "Next Gen 2015" (citing the top 30 most influential YouTube stars). In addition, the recent slate of successful feature films starring top digital talent, which Keenan (a former independent film producer of 15 years) notes "may be the only consistently profitable genre of independent movies, ever," as well as the recent article "YouTube Stars Catalyze Recent Rise In Book Sales, Publishers Say" in top digital outlet Tubefilter that claims the recent multiple best-selling books by YouTube stars and other digital influencers have helped keep the publishing industry afloat.
Keenan continues, "Adding digital stars would open up The Walk's commemoration ceremonies and regular visitation to a massively growing and unprecedentedly mobile new audience. My goal for this movement is having the Hollywood Chamber of Commerce President and CEO Leron Gubler and the doyenne of the Hollywood Walk Of Fame Association, Ana Martinez, as well as the distinguished members of the Chamber and Los Angeles City Council seriously consider this online petition and recognize the immensely positive impact it will have on the business and marketing of the not-for-profit Hollywood Historic Trust which runs the Walk Of Fame, and, additionally, for the Chamber and City Council parties to receive the credit for innovating a Los Angeles Historic-Cultural Monument such as the Walk Of Fame at the beginning of this, our new digital century." If selected, digital media would be the Walk's first new category since the live theater/performance star was added in 1984 by former Walk of Fame Committee Chairman Johnny Grant.
Just as in 1957 when the Walk Of Fame association named its original stars, Keenan also released a short list of streaming star nominees he believes should first be considered, based on popularity and overall entertainment influence, including top YouTube stars and other major digital influencers PewDiePie, Tyler Oakley, Cameron Dallas, Jenna Marbles, Smosh, Lilly Singh, Michelle Phan, Toby Turner, Hannah Hart, Harley Morenstein of Epic Meal Time, Grace Helbig, KSI, Bart Baker, Jesse Wellens & Jeana of PrankVsPrank, Devin Supertramp, Chester See, Andy Milonakis, Sonya Esman, Ryan Higa, Brittany Furlan, King Bach, NicePeter & EpicLloyd of Epic Rap Battles Of History and The Fine Bros., among others. Keenan's initial group of streaming star names constitutes well over 200 million fans, collectively. Within the online petition, Keenan also urges fans of streaming stars to nominate their favorite digital celebrities by using the hashtags #DigiStarWOF #PlayButtonWOF and aims for the first digital star to be awarded and coincide with Hollywood's 130th birthday on February 1st, 2017.
=======
Will Keenan is President of Streamup, the world's fastest growing live streaming platform (whose monthly userbase is more than twice the size of Twitter's Periscope and more than three times that of YouNow). In addition to the offerings of its competitors, Streamup's services also include professional live streaming tools for its creators and boasts an online audience currently at over 25 million monthly active users, including an embeddable player, special FX and graphic overlays, monetization, broadcast TV quality video and "re-broadcasting" (live broadcasting of non-live/previously recorded content) and most recently, mobile access. Before accepting the Presidency of Streamup (founded by CEO Kyle Michelson), for two years between '13-'16 Mr. Keenan was President of Endemol Beyond USA, the world's largest production company's first digital division in North America. Previous to his tenure at Endemol, between 2011-2013 Mr. Keenan was V.P. of Vertical Development & Network Programming at Maker Studios, YouTube's largest multi-channel network acquired by Disney in 2014. Will Keenan has also starred in, written, directed and/or produce over 30 independent films including his lead role in the first fully-digital feature film (Love God '96) and the last black and white musical feature shot on film (The Ghastly Love Of Johnny X, '12).