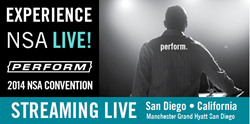 "Every Professional Speaker needs a strong technology partner to take advantage of today's opportunities. I highly recommend Digitell."Jim Cathcart, CSP, CPAE
Jamestown, NY (PRWEB) June 18, 2014
Digitell and the National Speakers Association have partnered up to bring you a taste of NSA's Annual Convention, Perform, Live from San Diego, June 29th - July 2nd, 2014. You can watch four days of some of the most sought after Keynote Speakers, simply by registering. Registration is free. Turn on your computer and be prepared to be entertained.
Check out just a few of the exciting sessions scheduled in this 4-day event:
Sampling of Performers:
Steve Forbes, Editor-in-Chief of Forbes Magazine will give a briefing on the state of business in the U.S. followed by a first-time-ever panel of CEOs. They'll reveal precisely how they get their businesses to perform and how they hire and use experts…like those who speak professionally.
Erik Wahl (aka the Warhol of Wall Street) is a graffiti performance artist, entrepreneur, philanthropist and bestselling author…who's redefined what it can mean to be a keynote speaker.
Nancy Duarte: Since 1988, Duarte's firm has created more than 250,000 presentations. Her experience working with global companies and thought leaders has influenced the perception of the world's most valuable brands. She authored the HBR Guide to Persuasive Presentations, Resonate, slide:ology and, most recently, Slidedocs.
In addition to Live Streaming select Keynote Sessions, Host Jim Cathcart, CSP, CPAE. Cathcart, a former NSA President, Author, Member of the Speaker Hall of Fame and Legends of Speaking will interview presenters and distinguished guests throughout the four days.