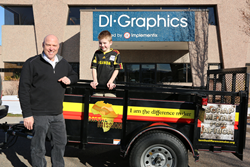 Adding vibrant graphics to the trailer Kylan uses to collect scrap metal should help him raise even more money for Uganda.
Denver, CO (PRWEB) February 24, 2015
DI Graphics is helping Kylan Bain be "a difference maker" by giving the 9-year-old's Scrap Metal for Africa recycling service, Metal Mission, a trailer makeover.
Kylan is a boy on a mission. When Kylan was 5, he got a pen pal in Uganda to learn about challenges around the world. He decided to raise money to help out and started recycling scrap metal. After posting flyers around his neighborhood, Kylan made $200 a year for the next two years. He not only sent gifts to his pen pal, but bought a goat, sheep, and chickens for the village.
At 9, Kylan had business cards made for his "company," Metal Mission. He decided upgrading the look of his trailer was the next step.
"When we heard about this remarkable kid and what he was doing in Uganda, we wanted to help. Adding vibrant graphics to the trailer Kylan uses to collect scrap metal should help him raise even more money," said Scott McLean, CEO of DI Graphics.
After seeing the makeover on his trailer, Kylan said, "This means a lot to me. Now I can get the word out about what I am trying to do for Africa easier. Plus it looks really cool!"
Kylan and his family got the chance to meet his pen pal in person after four years of exchanging letters and pictures. Kylan's pen pal and his parents, along with his brother, sister, three cousins who came to live with them when their mother passed away, and a young girl from the community whose mother could not care for her, all live in a one-room home with dirt floors and a curtain for a front door. Kylan said the tour of his pen pal's school and community was the best part of his trip.
The next step for Kylan is a website, which is currently under development at iamthedifferencemaker.org. This site is scheduled to go live in late March.
About DI Graphics
Denver-based DI Graphics is a leading nationwide provider of vehicle wraps, environmental wraps and event-marketing graphics throughout hospitality, telecom and cable/satellite, healthcare, financial services, food and beverage and energy industries. With the ability to wrap many different surfaces, DI Graphics shows companies how to use vehicles, equipment, windows, buildings, floor signs to reach their target audiences. Founded in 1930, DI Graphics delivers timely, high-quality solutions for corporate branding projects around the country. For more information visit http://www.digraphics.com.