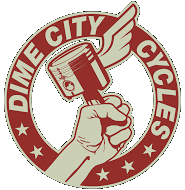 "Dime City Cycles and the ICON brand both live by the philosophy of "Build not Bought" and we are proud to announce their stocking of ICON and ICON 1000 apparel" ~ Joseph Gustafson, Marketing Communication Specialist, ICON Motorsports
Largo, FL (PRWEB) April 30, 2014
Dime City Cycles, a premier parts, accessories and riding gear supplier for vintage and modern classic motorcycle enthusiasts, is announcing a new relationship with Parts Unlimited. Parts Unlimited is the world's largest distributor of aftermarket motorcycle parts in the powersports industry. This new relationship will afford Dime City Cycles access to an unparalleled number of products to offer to the growing custom garage builder and specifically ICON's unique and functional line of motorcycle protective gear and lifestyle related products.
The relationship started after a trip by the owner's to Portland, OR for The One Show where ICON was a sponsor. While there, they toured the ICON headquarters and immediately knew that they needed to add ICON and ICON 1000 to their product lineup.
"Dime City Cycles and the ICON brand both live by the philosophy of "Build not Bought" and we are proud to announce their stocking of ICON and ICON 1000 apparel. DCC is an example of how dealers and companies can showcase motorcycling culture among a new demographic and we look forward to having the ICON lifestyle alongside them", said Joseph Gustafson, Marketing Communication Specialist at ICON Motorsports.
"We have always been an admirer of ICON line, but once we met Joe and heard their story, we knew that we had to offer their lineup to our customers. They have always forged their own path with their helmets, apparel, motorcycles and creative output and we like to believe that we have as well", said Jason Michaels, Co-Founder at Dime City Cycles.
In addition to the ICON lineup, Dime City Cycles will have access to hundreds of thousands of other products and brands in one place allowing them to continue to drive efficiencies to their supply chain management creating more value and better availability to their customers.
About Dime City Cycles:
Headquartered in Largo, FL, Dime City Cycles is a global retailer of parts, accessories, and lifestyle riding gear retailer for vintage and modern classic motorcyclists. Their target customers are enthusiasts who are restoring, modifying or building custom motorcycles under such genres as café racers, brat style, bobbers and scramblers. DCC stocks over 3000 unique parts in their warehouse which allows them same day shipping on over 95% of their orders.
About Parts Unlimited:
Headquartered in Janesville, WI, Parts Unlimited is one of the world's largest distributor of aftermarket parts and accessories in the powersports industry. Parts Unlimited sells to over 12,000 dealerships worldwide and continues to expand its market penetration with its sister companies, Parts Canada, Parts Europe and Drag Specialties.
For more information, please visit our website at http://www.dimecitycycles.com/.